P250 | Asiimov in CS2: Review, Design, Price
Attention, gamers! The Counter-Strike universe has just been shaken up with the recent release of CS2. The highly-anticipated sequel has various improvements, such as an overhauled matchmaking system, bug fixes, and even adaptive smoke features. It has sent ripples of excitement through the gaming community, but what truly captivates the hearts of CS fans is the stunning skins.
The transition from CS:GO to CS2 with its enhanced graphics has not only improved the visual aspects of the game but also made in-game items like skins shine even brighter.
The colors pop with greater vibrancy, which is very noticeable in skins like p250 asiimov, whose intricate and mesmerizing sci-fi design is now more captivating than ever. Whether you're playing in a dark, smoky corridor or under the bright sun, P250 | Asiimov will turn heads.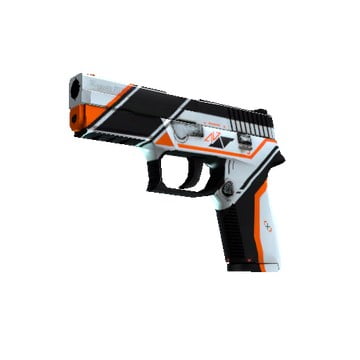 P250 | Asiimov: Design and Price Range
The skin is instantly recognizable for its distinct sci-fi design. With its origins in the Chroma 3 collection, it has been custom-painted to exude a futuristic vibe. Its eye-catching orange and white color scheme sets it apart from the mundane weapon skins in the game. In both CS:GO and CS2, P250 | Asiimov boasts an unparalleled level of detail in its design, which makes it a top choice for players who appreciate aesthetics as much as functionality.
Price Range
Now, let's delve into the pricing of P250 | Asiimov, which is crucial for many collectors and players. The price of this skin can vary depending on its condition.
In a Minimal Wear exterior, the P250 | Asiimov can reach an impressive price of around $30.
For those looking to save a bit while still enjoying the skin's beauty, a Field-Tested exterior will typically cost from $5 to $10.
If budget is a concern, you can still get your hands on a Well-Worn P250 | Asiimov for as little as $3–$5.
Where to Buy and Sell
If you're eager to acquire or part ways with a P250 | Asiimov, DMarket is the best place to turn. It's a trusted marketplace where you can buy, sell, and trade CS:GO and CS2 skins.
The platform offers a secure and user-friendly experience, with a wide range of skins available for purchase. DMarket ensures that your transactions are safe and secure, which makes it a preferred choice for both experienced collectors and newcomers to the world of CS skins.
Bottom Line
In the world of Counter-Strike, the allure of unique and visually captivating weapon skins cannot be overstated. P250 | Asiimov from the Chroma 3 collection is a prime example.
While the price of the skin varies with its exterior, there are options for gamers of all budgets, from Minimal Wear to Well-Worn. If you're interested in buying or selling this skin, DMarket is the ideal platform, offering a secure and user-friendly experience.