When the word 'erection' made the Countdown board last week we couldn't help but giggle like an awkward school kid, but a new Japanese game show, which sees contestants forced to faultlessly sing a song whilst receiving a hand job, is a whole different ball game. Literally.
Sing What Happens Next, broadcast on an adult network, is pushing the reality competition genre to the extreme. The object of the game is that contestants must know song lyrics off by heart and must not be distracted by the hand job. But they'll need to do more than that if they want to win. They'll also have to hit every note to perfection and, after watching a clip of the show online, the contestants really struggle, with some hilarious results.
The unidentified woman who masturbates the contestants may do so with her hands or her feet and the contestants must be able to carry that tune until they ejaculate. It's definitely not one for the family.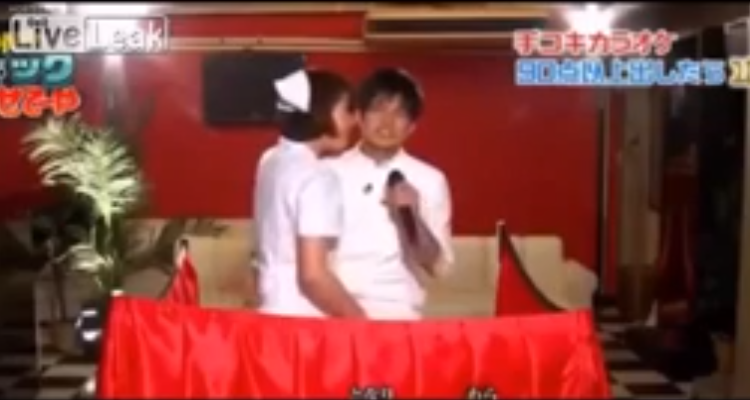 What do the guys win, apart from a free hand job? Apparently a ton of raunchy products, ranging from sex toys to gels. Some Redditors have pointed out that the show is pretty close to porn, with the contestants genitalia only covered by a seedy red silk sheet. But despite it's naughty nature, the show is also intentionally laugh-out-loud funny in places.
We can't say we're totally surprised that Japan have managed to come up with a game show like this, though. In fact, it's nothing compared to show Orgasm Wars (which, if you're going to Google, we'd advise not doing at work). The show sees Japanese porn star Ryou Sawai attempting to make straight opponents ejaculate by giving them forty minutes worth of oral sex behind a small box. If the guys don't bust, then they win.
Seriously, who thinks up these TV shows!?