WATCH: Rihanna And Coldplay Perform 'Umbrella' Ahead Of Paralympic Closing Ceremony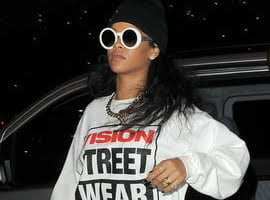 Photo: WENN.com
We are counting down the days to the Paralympic Games Closing Ceremony this Sunday (September 9), which boasts an amazing line-up – including a collaboration set between Rihanna and Coldplay.
And now, with Jay-Z rumoured to be performing as well, our excitement has bubbled over completely. Will Beyonce make an appearance too?
As we anxiously await the grand finale of the London 2012 Games, we've decided to sate our Closing Ceremony appetite with a quick look at Coldplay and Rihanna's amazing duet of 'Umbrella', the 2007 single she's rumoured to perform on Sunday.
Chris Martin on the piano and Rihanna's soulful vocals have completely transformed the song as we know it, haven't they?
That explosive performance, which happened during the band's Mylo Xyloto tour stop in Paris, France, is a tiny indicator as to what we can expect from the duo when they take to the stage at the Paralympics Closing Ceremony.
And, if it's anywhere near as awesome as that, we have a feeling that it will be THE must-see performance of the night.