WATCH: Miley Cyrus Ditches The Blonde Hair In New Music Video
Miley Cyrus may have shocked fans with her dramatic new style this summer but the singer has given fans a preview of brand new music pre-blonde hair as she covers Melanie Safka's classic "Look What They've Done to My Song".
The video was filmed before Miley chopped off her hair during a session in her back garden where she is seen with her hair in a high bun.
The singer is seen sitting by the pool holding a mic, while two male guitar players sit next to her..not a bad life hey!
Speaking about her music Miley said she was going to make "a sick record."
She told Billboard, "I've been in so many sessions and just kind of bunkering down and working really hard and perfecting everything. I've never really had time to do that, to kind of have my record kind of 'done' and then sit there and make it until it's perfect."
She added, "So, it's been really, really fun. This whole year that's all I've really dedicated life to. I just want to make sure it's exactly what I want first."
Miley Cyrus may have been absent from the world of music for quite a while now, but she's set to make quite a comeback it seems, listing fiance Liam Hemsworth under her inspirations and getting help from the likes of Pharrell Williams to create a 'Motown' vibe.
And however much Miley loves to talk about her upcoming LP, she's more worried about which single will cut it as THE comeback track.
Miley Cyrus – 'Look What They've Done To My Song':
Miley Cyrus Cowers Behind Liam Hemsworth To Hide New Haircut!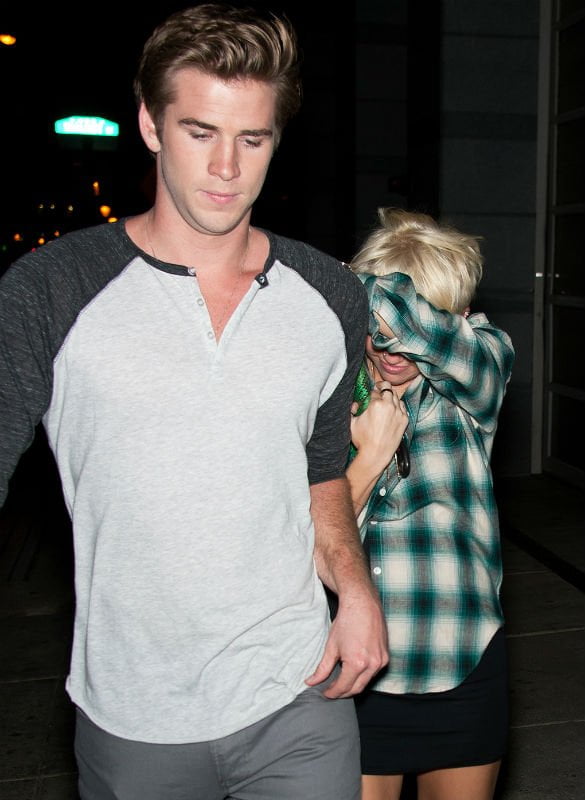 Miley hides her new undercut behind fiance Liam Hemsworth – Splash