Tyga didn't hold back in his epic rant in Vibe magazine as the rapper seems to have turned his back on his former Young Money pals, blasting Drake as a "fake" while also dissing Nicki Minaj, claiming he has never truly bonded with them, backing up his recent tweets that he is no longer a part of the record label.
The 24-year-old signed to the hip-hop label after being approached by Lil Wayne in 2011 and he has released two solo albums with the imprint, including the upcoming Gold Album: 18th Dynasty, which is set to drop on November 18. Despite the fact that the LP is being released under the Young Money label, Tyga says that he wants them to have nothing to do with it and he's in the process of trying to push his own record label. When asked if Young Money were involved in the creativity of the album, Tyga told Vibe: "Nah. I tend to distance myself from them. I'm tryna' go independent. I don't really get along with Drake. I don't really get along with Nicki."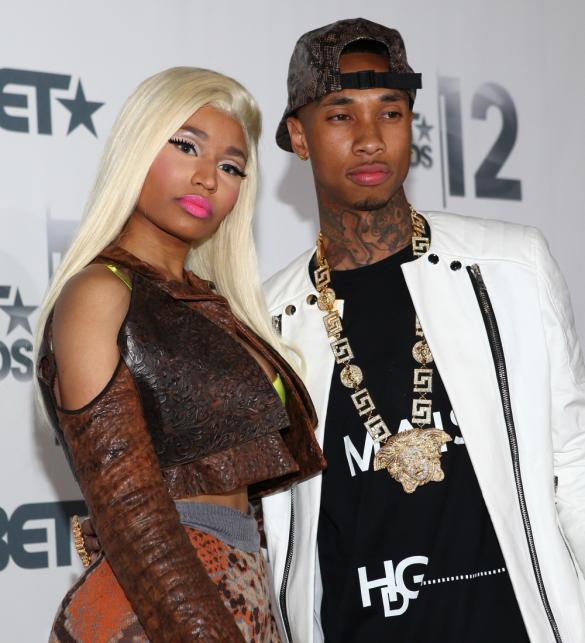 Tyga has revealed he's not so buddy with Nicki Minaj after all (B. Dowling/WENN.com)
Say what?! Explaining his dislike for the rappers who were once thought to be close friends with him, Tyga ranted: "I don't like Drake as a person. He's just fake to me. I like his music; you know what I'm saying? I think his music is good, but we're all different people. We were forced together and it was kinda' like we were forcing relationships together. It is what it is. But I been friends with Chris [Brown] for like six years. That's my real genuine friend. We hang out all the time. He lives up the street from me, so we don't just do music we hang.
"I think being signed to Young Money, everybody felt like they had to force a relationship 'cause Wayne put us together. At the end of the day the reason why I signed to Young Money is because of Wayne. Not because of Drake, not because of Nicki. It was because of Wayne and my relationship with him. I try to be cool with everybody, but sometimes, everybody just has different personalities, motives, and different characters. When you realise that, you realise that's not a place where you want to continue to grow." Ouch!
Tyga's comments come just a couple of weeks after he launched a Twitter tirade against the label, accusing them of dragging their feet with the release of the Gold Album. "Gold album been done. my label holding me hostage so i can't release nothing. might just leak it for my fans then let them make $ off it," he tweeted on October 10 in a series of posts, adding: "The music industry is a devils playground. Im a man of God. #LastKings is what i built and the only thing I rep. @mackmaine its about growth not maintaining. Never bite the hand that feeds you. But never starve for the hand that doesn't. #LastKings."