The Vampire Diaries' Ian Somerhalder Admits He 'Hates Working' With Paul Wesley
Has the bromance between Ian Somerhalder and Paul Wesley come to an end after Ian told reporters that he "hates working" with his The Vampire Diaries co-star?
Well, no because Ian was feeling in a cheeky mood when he was asked about what he thought of Paul making his directorial debut on the hit CW network show.
Deciding to have a bit of fun, the actor who plays the role of Damon in the super natural drama joked: "By the way, I love working with him as a director, hate working with him as an actor."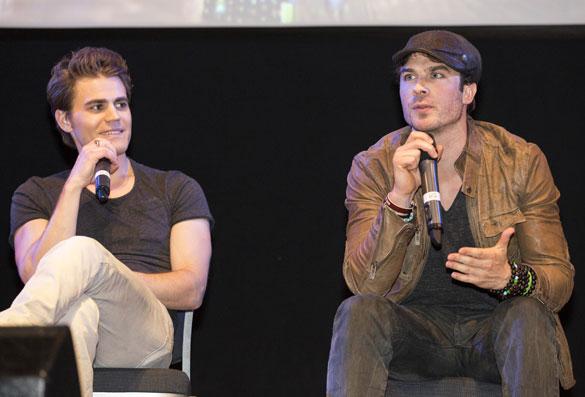 Paul and Ian are BFFs (WENN)
Going on to praise Wesley and his efforts on the show, Ian continued:
"The great thing about having my brother Paul…We've had many conversations leading up to this, one which was: 'Paul I have your back, you have my back.'
"He knows the show better than anyone."
Meanwhile, Ian wasn't the only one to talk about Paul as Nina Dobrev revealed how she likes to prank him.
The actress who plays the role of Elena said: "I had a lot of fun with him. It was really cool to play tricks on him."
Nina revealed what pranks she gets up to on the set of the Vampire Diaries (WENN)
Recalling one joke that she played on him, Nina said: "For a joke I forged all of our signatures on a script cover for our first episode and framed it and gave it to him, just to make him think 'ah that's so nice'.
"Then I wrote a letter and was like 'look it's been half a decade, we've had such a great time and now you're transitioning into the next step of your career I wanted to just remind you of where we started and what's most important.
"I gave him this big present and when he opened it, it was a hand painted portrait of my face. It's now hanging in his dressing room!"