Taylor Swift's Shake It Off: 6 Songs It Sounds Like
Taylor Swift released her newest single, Shake It Off and we're already huge fans of Swift's new pop vibes. It's totally Taylor, with loads of attitude and sass as she basically gives a middle finger to her haters, while slightly mocking other pop artists out there in the hilarious video.
The video, which features a singing and dancing Swift complete with back-up dancers and costume changes, has already racked up over three million views on YouTube as the blonde leaves Country Music behind.
Speaking to Rolling Stone magazine, Taylor revealed the track was in answer to her haters, she said: "I've had every part of my life dissected — my choices, my actions, my words, my body, my style, my music. When you live your life under that kind of scrutiny, you can either let it break you, or you can get really good at dodging punches. And when one lands, you know how to deal with it. And I guess the way that I deal with it is to shake it off."
The track was co-written by pop maestros Max Martin and Shellback. Martin was behind Taylor's last lead single from album Red, We Are Never Ever Getting Back Together as well as co-producing I Knew You Were Trouble. So you knew it was going to be good.
While it's a whole new sound for Taylor, fans have been talking about which tracks might have influenced the single.
What do you think? Did Taylor have Avril on repeat?
1. Avril Lavigne – The Best Damn Thing and What The Hell
Taylor's new sound has been compared to so many of Lavigne's but these seem to be the stand out tracks, that people are talking about.
2.Shake It Out – Florence And The Machine
With the song name almost identical, it's not surprising that Taylor sounds Florence-esque on the track, mainly on the hook.
3. Haim – The Wire
Dirty pop beats, with female attitude? We wouldn't be surprised if Taylor had been listening to Haim when working on her new record.
4. Gwen Stefani – Hollaback Girl
Taylor's attitude filled track defintely has the feel of Gwen's pop-stomping single, especially the chanting style lyrics. This might actually be a deliberate homeage to Stefani as Swift wears the same cheerleading outfit in the video.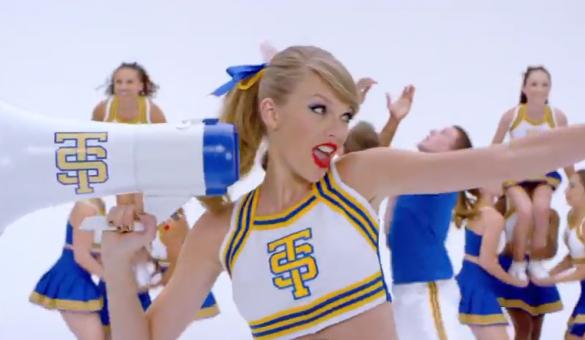 5. Jonas Brothers, Pom Poms
Maybe because of Taylor's Jonas connection, quite a few fans over on Twitter have said it's like a "girl version" of Pom Poms, we're not totally convinced.
6. Outkast, Hey Ya
Again, we're guessing the 'shake it' element of the song, is what reminds fans of Swift's tune and the upbeat tempo. Either way, it's a totally amazing track to be compared to.
Stay tuned for new album 1989, released later this year.