Robert Pattinson Worried About Hurting Kristen Stewart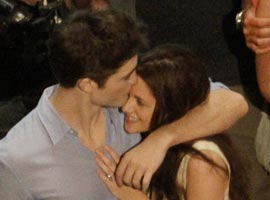 Photo: Splash News
Robert Pattinson and Kristen Stewart have been busy filming their honeymoon scenes for the Twilight Saga: Breaking Dawn in Brazil for the past few weeks.
But according to reports, Rob found the scene in which Edward and Bella make love for the first time, 'too disturbing'.
Rob was left worried and upset when he realised how violent the scene would be. In Stephenie Myer's novel, Bella is left bruised and battered due to Edward's super human strength.
According to the National Enquirer, Rob asked: "Can't we use body doubles? Kristen is so slight, I can't stand the thought of hurting her."
The publication reports that Kristen convinced Rob to act out the scene and that despite his reservations, he acted "like a real professional" throughout.
Could we love Rob any more?!