Mia Farrow
---
Leer de 76-jaar oude actrice Mia Farrow kennen voordat ze beroemd werd. Volgens IMDB was Unusual Occupations Mia Farrow's eerste tv optreden in 1947. In 1964 speelde zij als Karen Erikkson in haar eerste film, Guns at Batasi.

| | |
| --- | --- |
| Verjaardag | 02 september, 1945 |
| Nationaliteit | Amerikaanse |
| Naam in paspoort | Maria de Lourdes Villiers-Farrow |
| Debuut | Guns at Batasi(1964) |
| Etniciteit | Ierse, Schotse en Engelse (Lees: 16 verrassende etniciteiten van beroemdheden) |
| Etnische categorie/ras(?) | Blank |
| Seksualiteit - gay of niet? | Hetero |
Haar geboorteplek is Los Angeles, California, USA. Haar ouders John Farrow & Maureen O'Sullivan zijn van Ierse, Schotse en Engelse etniciteit. Mia Farrow was geboren op 02 september, 1945 op een zondag.





Lees: 19 huizen waar beroemdheden in zijn opgegroeid

Basisschool: Catholic conventMiddelbare school: Catholic conventUniversiteit/hoge school: Bard College, Yale University
---
Foto van eerste film of tv debuut
Guns at Batasi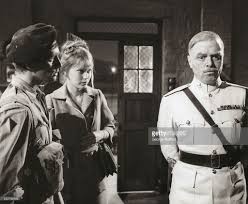 Rol: Karen Erikkson| Datum: 1964
---
Beelden van het eerste of vroege interview op TV
MIA FARROW TALKS BEATLES WITH LETTERMAN
---
Eerste auditie tapes
Mia Farrow auditioning for Liesl
---
Deel je ervaringen met Mia Farrow hier and review je ontmoeting! Of corrigeer onze bio/wiki- Correct our wiki/bio - is zij niet gay of hetero of van andere afkomst? Laat het ons weten!