Looking to offer the UK's hottest and freshest new talents an alternative place and way to showcase their musical creativity, new platform Salute launches today in London with the announcement of a huge competition where the winner will receive an incredible £50,000 cash. EntertainmentWise caught up with the face of the brand, The Undertones' Feargal Sharkey, to find out more about the platform, its creation and how it looks to revolutionise the discovery of new talent.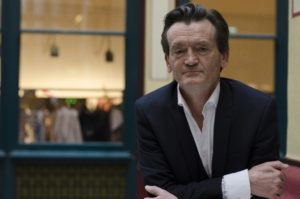 EntertainmentWise: Hi Feargal. Thanks so much for taking the time to talk with me today.
Feargal Sharkey: You are very welcome, how are you today?
E: I'm well thank you! Okay, first of all, where did the idea for Salute Music Makers come from and how did you get involved?
F: The idea came from three guys; Patrick, Minesh and Jean-Claude who started developing the idea some time ago. I got involved when they connected with the PR company Quite Great PR, which is run by a guy called Pete Bassett. I used to work with Pete at Polydor Records back in the early 1990's and I think it was Pete that suggested they come and have a conversation with me. I met with the guys, sat down with them, and speaking from my own personal experiences and background, I've always been partial to work with anybody who's willing and looking to inspire, promote, support and give opportunities to young artists, musicians and performers, so I was more than happy to get involved and do what I could, and can, to help.
I can still remember getting the help and the money I needed for some recording time and it was during that recording session that a little song called "Teenage Kicks" was made. Were it not for somebody being eager to support new music and new talent in Northern Ireland in the late 1970's, my life could have been very different, so I'm all for a platform that gives a similar opportunity to upcoming bands or artists looking for that first little bit of help to really get them going.
E: To what extent do you personally feel the industry needs a platform like this?
F: The music industry is complicated and I say that as someone who has been a part of it my whole adult life, but on a personal note, it's also been very kind and very generous to me. In many ways, the music industry is a lot tougher now and young artists certainly have a lot more opportunities than I did when I was starting out. I remember in 1978, me and the other four guys in The Undertones were sitting one day in front of a pile of 7-inch vinyls wondering what to do next and not having the faintest idea. That was until somebody came up with the bright idea of sending a copy to John Peel.
Today's upcoming bands and artists don't have to really worry about things like that as we did, and that's largely because of technology. Everybody now can get a piece of kit and go and create music; make it and post it online. Every Apple computer sold comes with a little piece of software called GarageBand already installed and it's extraordinary. You can actually make proper records using just that piece of software and 20 minutes later, post it on any number of sites around the world.
For me the concern is that the ease with which people can create music these days has led to the increasing creation of what I call static, and that it's become harder to support those who have a genuine and instinctive talent and ability when it comes to music. In this technology-driven world, there's little that can be done about that, but I also think that breaking into the music industry, and really getting your foot in the door, has become much, much harder because of how easy it is for anyone to create a piece of music and share it with everyone.
One of the reasons I was so fascinated by Salute Music Makers and so keen to get involved is that the winner of the competition gets £50,000 and the other five short-listed finalists get £10,000 each. Young artists today can and could do A LOT with that kind of money.
E: As you just mentioned, the Salute competition offers a top prize of £50,000 – that's quite an incentive given the fact many artists struggle to make ends meet even when they achieve limited success…
F: £50,000 gives you a huge amount of power as an artist and a huge amount of control over the destiny of your own career. It's more than enough money to set up your own record company, record one, perhaps even a couple of albums, and get out there and do whatever it is you want to do with that music. That amount of money gives an artist a huge amount of freedom, and once the music has been recorded, it can allow the artist to go out and licence it and arrange promotion, marketing and everything else that an artist needs to think about when looking to sell their music to an audience.
E: Salute is a totally new music platform and what I believe to be a great way of championing new talent, but what would you say the likes of The X-Factor and The Voice have done to the music industry in terms of their impact? Some music fans I've spoken to have said such shows have largely demeaned the value of music and artistic talent – is that something you'd agree with?
F: I don't believe that's what they've done at all and I never have. I'm old enough to remember Hughie Hughie Green and Lena Zavaroni. Hughie hosted a show called Opportunity Knocks and Lena dominated it for weeks, if not months. Shows with a format like that of The Voice or The X-Factor have been around longer than many of today's younger generations are aware, and I think they'll always be part and parcel of the music industry.
I think it's important to remember that the entry level into the music industry is ZERO. All you have to do is wake up one morning and think 'I'm a musician…I'm a song-writer, I'm an artist…' and you're in the music industry. For me, it's about ensuring that, no matter how it's done, people who want to have that career in the industry, get the opportunity to write the greatest piece of music anyone's ever heard and bring that to the attention to as many people as possible and if that's done via appearing on a show like The X-Factor or entering into a competition like the one Salute Music Makers are running, it really doesn't matter. I sincerely hope there are scores and scores of people out there right now who don't want to go down the nationally televised route, but want to have more control of their own destiny and creative output and get involved with that's where I think Salute Music Makers; I can't wait to see and hear what this country's new talent has to offer.
E: In terms of the music industry as a whole, from your professional stand-point, do you believe it's got better or worse over the years?
F: (laughs) It can be hard to define these things. If we're talking about the global impact that British music has had on the industry, then it's booming and has been doing so for decades. It's just had one of its most successful years EVER. It's the second most successful global industry on the planet. Artists like Adele and Amy Winehouse, bands like Coldplay and The Beatles; they've all done their bit in establishing the UK has a hugely talented place and they continue to do that. The UK is and has been home to generation after generation of young, remarkable British talent who create the kind of music the rest of the planet wants to lap up, embrace and love.
I was watching some clips recently of some upcoming grime acts from the east-end of London performing at SXSW in Austin, Texas this week and the audiences, who largely had no idea what this sound or style was that they were hearing, seemed to be going completely nuts. I remember sitting at home watching those clips and thinking: 'Is this the start of another new British invasion?' and I wouldn't be surprised if it is – given how those audiences were reacting, without question it's certainly possible – and long may that continue!
I also think that it's individuals like these grime acts, some of whom might have spent several years working to get to where they are now, who can provide huge inspiration for the rest of today's new and upcoming talent. Ten years ago, pretty much no-one knew what grime music was and yet now, one act has had a UK number one album while several others on the scene have performed at one of the biggest events in the US. If that's not inspiring to new talent, I don't know what is.
E: I've spoken to many upcoming bands and artists over the last few years who have said management and labels often dictate what a band or artist should or shouldn't do, so from your professional stand-point, why is now the right time to launch a platform that gives the control back to the artist?
F: Having been a part of the industry since I was a teenager, I can tell you the music industry is an incredibly complex place. Trying to navigate your way through it without any prior knowledge or experience can be a very difficult thing to do. I think it's important that people do find some kind of guidance or assistance, need it be via managers or lawyers, but again, as I said earlier, £50,000 can give an artist, a great amount of control and a bit more flexibility over what they do with the music they create and who they create it with.
E: Is there any particular market Salute Music Makers are aiming specifically at or are you just wanting to see and hear everything – every style and every genre – new talent today has to offer?
F: Quite simply, this competition is open to any new British talent. We're not looking for any particular kind of artist, or any specific genre; if you're British, creative and want to be a part of something that could quite possibly change your life, if not give you that first step up the ladder of the industry, then you're good to go and we want to hear what you've got.
E: You're hosting the launch event on March 22nd in London where acts including Mac Twins, Neon Waltz, Winter Rose and Navina will all be performing and Jamal Edwards will be doing a Q&A. What do you hope those who attend will take from the event, and, looking further ahead, what would you like the media, the general public and in particular, music fans to say about the platform?
F: In terms of the media in particular, we just want to speak about the fact that this platform is out there, the competition's happening and through that, alert new artists, song-writers and musicians that it is and encourage them to enter. In terms of the artists themselves, hopefully they will feel and be inspired by the fact there's a platform out there targeted solely at them which is determined to showcase and support the best new talent this country has to offer and encourage them to submit the great piece of work they've ever created.
E: Salute Music Makers has sponsorship and support from Facebook, Vice Media and Unliad. How important is that for a new platform such as this?
F: With Unilad, we're looking at being able to reach somewhere around 20 million young people, so there's a fantastic opportunity right there, and we're assuming that a good number of those 20 million people aren't just fans of music but are musicians, artists and song-writers themselves. As for Facebook, there will be a point, later in the competition, where the vote will go out to the great British public and the more people we can connect with to get involved with that vote, the better. Music is a huge part of people's lives here in the UK – it's a staple of sorts, I'd care to say – so I like to think that millions of people will support this competition, get involved, share their views on the talent and take part in the vote when it opens. Social media, it's fair to say, is going to play a fairly fundamental part in this whole process, given how connected everybody is these days.
E: The platform is competing with an ever-growing market and industry, so how do you plan to make Salute stand out and go the distance?
F: I think the one thing that does and will always set this platform apart is that it's wanting to give the biggest amount of control back to the artist and I don't believe that to be something anyone else, or any other platform, has identified or done anything about up until now. Right now, we're wanting to find the most original, creative band or artist in the UK, and that in itself, sets Salute Music Makers apart from other platforms rather significantly I'd say.
E: What's the long-term plan regarding Salute? When will you know it's been a success and do you think an idea such as this could work in America perhaps?
F: I most certainly think this could work in the US. I think you could take this idea to any modern-day country of your choice and it would work, largely because people's love of music is a global thing. You're speaking to a somewhat older man now who was, once, a young artist in Northern Ireland who would've killed for an opportunity like the one Salute is offering the fresh, new talent of this country. In terms of plans for the platform, right now, it's all about the UK and helping support the next phenomenal British band or artist.
For me, I'll know Salute Music Makers has been a success if, in three or four years – maybe ten years – from now, somebody walks up to me in the street and says: 'You know what? I decided to become a musician because of your competition. I'm still here, I'm still making music and I still have a career.' That for me would be the ultimate compliment or highlight I could ever receive as a result of getting involved with this platform.
What's really exciting for me, as both an industry professional and a music fan, is to continue to see the British people get excited by new music, much of which the bands and artists who create it will likely say was inspired by the great acts of past decades such as The Beatles for instance, and I think – I hope – that such passion for music will drive and encourage today's musically creative individuals to get involved with Salute Music Makers and share their talents with everyone.
For more information on the platform or competition, visit the Salute website or Facebook page.