Miley Cyrus Shares Ugly Selfie With Olympic Athlete Gus Kenworth
She's known more for her tongue than she is for her teeth but that hasn't stop Miley Cyrus for showing off her false gnashers any chance she gets. This time she has roped in Olympic athlete Gus Kenworth to join her on camera, with a pair of very gross looking teeth.
Miley Cyrus just loves her crazy props. From foam fingers to false teeth, this girl has always got something crazy up her sleeve. This time she managed to find someone willing to join her, but in a random turn of events it wasn't one of her regular BFFLs or back up dancers, but an Olympic skier!
We're an orthodontist's dream team! 😉 @MileyCyrus #bangerztour pic.twitter.com/2oFW4YyLdY

— Gus Kenworthy (@guskenworthy) March 5, 2014
Gus Kenworth shared the unlikely snap on Twitter, complete with the caption: "We're an orthodontist's dear team" and a winky face.
This is just the last in a long line of stunts made by the rebellious pop star during her scandalous Bangerz tour. Earlier this week she 'kissed a girl and liked it' after she gave front row guest, Katy Perry a big smooch.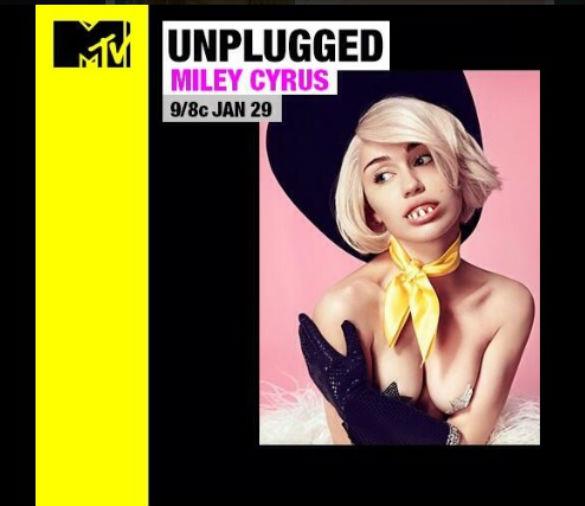 Signature style? Miley on the poster art for MTV Unplugged (Twitter/MileyCyrus)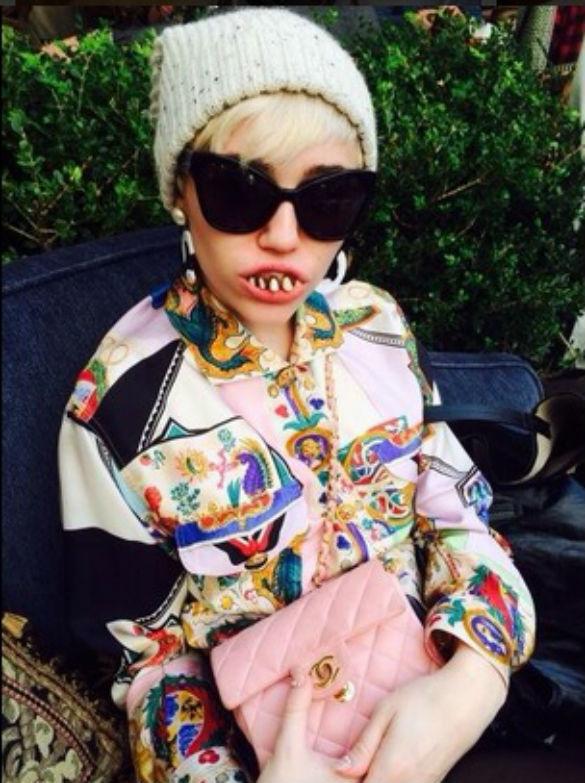 She can't get enough of those teeth! (Twitter/MileyCyrus)
However, when it comes to these ugly teeth, it looks like we can't blame Kenworth for this snap, looks like Miley took inspiration from the MTV Unplugged promo shots, which similarly featured some very unattractive teeth.
Do you think this toothy look will catch on? We hope not!