Lily Allen Vs Azealia Banks: The 7 Kinds Of Twitter Reaction
It's the biggest Twitter feud since Azealia Banks's last one. The '212' hitmaker has been engaged in cyber-warfare with Lily Cooper (nee Allen) for the last few days; with the pair exchanging insults on the micro-blogging site without even stopping to tag each-other in the posts.
For those who are behind: Lily has made quips about Azealia on Twitter in the past. Last week she called her "weak" and accused her of having a secret drug habit.
She also casually called her children "ugly" and said her husband looks like "a thumb".
Allen responded by calling her a one hit wonder, accusing her of picking fights to promote her new single, and – when Banks bragged that she had just played Glastonbury – she posted a photo of her own performance at the festival a few years ago, on the main Pyramid Stage.
Lils also criticised the constant delays surrounding her rival's album, joking that she'd had two kids since '212' was released. Oh dear.
Twitter users have, as ever, loved throwing in their two pence – and you can see the best reactions below.
(All photos: WENN)
1. The unsurprised response
2. The CBA response
3. The metaphor response
4. The not-exactly-sitting-on-the-fence response
5. The split loyalties response
6. The exasperated response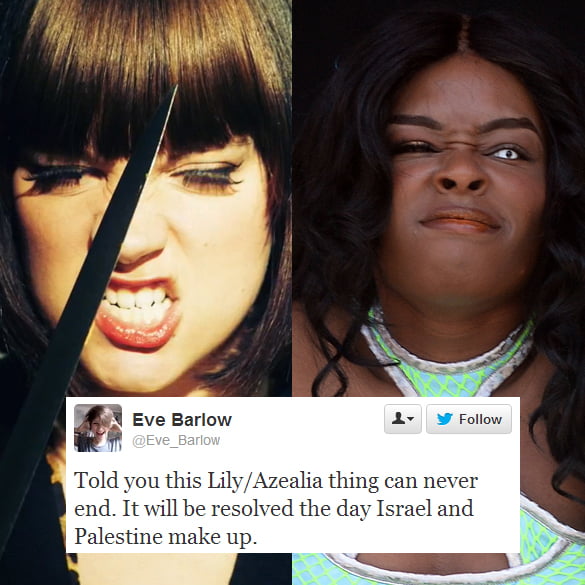 7. The unimpressed response