Kristen Stewart Insists She Loves Twilight Fans
Kristen Stewart has insisted she has "love" for fans of Twilight, despite occasionally appearing uncomfortable with her fame in interviews.
The 19-year-old actress, who plays schoolgirl Bella Swan, said she would never say anything "negative" against the franchise's followers.
But she admitted that finding herself on the receiving end of such praise was not usual.
"No, I love the fans. I've never said anything negative," she is quoted as telling Sugar.
"It's just not normal to be in a situation where there are thousands of screaming girls and you're their fodder.
"I thought they were going to hate me, but they love it. I love girls who are in love with me."
Stewart also paid tribute to co-star Taylor Lautner's physique in The Twilight Saga: New Moon.
Lautner, 17, piled on 30lbs in order to return as beefy werewolf Jacob Black in the second installment of the vampire saga.
Stewart said she was pleased her co-star had returned.
"Taylor still playing Jacob was the coolest thing. It was under deliberation so I'm glad he did it. And he looked so buff," she added.
Kristen Stewart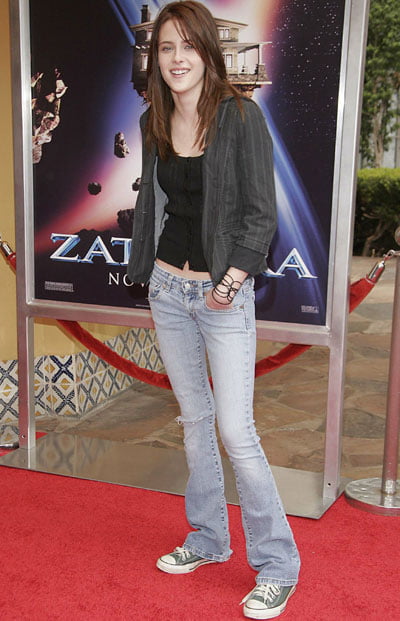 (Splash News)