As the film thundered it's way into cinemas across the UK yesterday, early reviews of Kong: Skull Island have been largely positive, however not all critics and movie-goers have been as impressed by the movie as others.
A synopsis of the film reads as follows:
When a scientific expedition to an uncharted island awakens titanic forces of nature, a mission of discovery becomes an explosive war between monster and man. Tom Hiddleston, Samuel L. Jackson, Brie Larson, John Goodman and John C. Reilly star in a thrilling and original new adventure that reveals the untold story of how Kong became King.
Directed by Jordan Vogt-Roberts, Kong: Skull Island is set in 1973, shortly after the announcement that US troops are to withdraw from Vietnam. Tom Hiddleston plays tracker/disillusioned soldier James Conrad, and along with his fellow Marvel cast members Jackson and Larson, together with Goodman and Reilly, is joined by Straight Outta Compton break-outs Corey Hawkins and Jason Mitchell.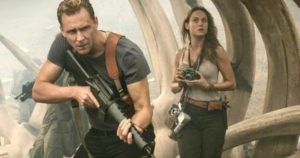 This film fan was one of scores who booked their ticket for the film early in excited anticipation and I'm happy to say I wasn't disappointed by what I saw. The cast are great and the CGI, particularly when it comes to the 100ft beast that is Kong, is mightily impressive. Roberts has said in interviews that he wanted to move this new Kong film away from the 'damsel in distress' idea that ran through the original and the 2005 Peter Jackson remake, and to a large extent he succeeded. There is however a moment in the movie (no spoilers, promise!) where Kong does get 'involved' with the island's new arrivals.
The post-credits scene has also been considerably hyped-up over the last few weeks and now I know why. All I'll say is that it leaves plenty for film fans to discuss, particularly since it was recently announced that Kong is to face-off against Godzilla in a new movie scheduled for release in 2020.
But enough about my thoughts…here are what of the critics, and fans, had to say on Twitter:
JGH FROM SKULL ISLAND!!!! KONG WAS FUCKIN LIT LIKE GODDAMN I ENJOYED IT SO MUCH

— kathleen (@_katfernandez) March 10, 2017
Who's off to get some Kong action tonight? The awesome #KongSkullIsland is in cinemas from today. Our ????review.https://t.co/VqoZfiBsxi pic.twitter.com/gggysud0Xj

— The Hollywood News (@thncom) March 9, 2017
Review: 'Kong: Skull Island' is more numbskull island https://t.co/veG3l40VF7

— Micall (@c411m3call) March 9, 2017
#KongSkullIsland would be great if it treated the characters like the monster fodder they are. @WeLiveNetwork review:https://t.co/Ml9YMr7BQ7

— Franchise Fred (@FranchiseFred) March 9, 2017
just caught the movie – Kong, Skull Island. 8/10, interestingly peculiar scenes, spectacular graphics and decent story flow.

— Danny (@dannysky05) March 10, 2017
MOVIE REVIEW: 'Kong: Skull Island' Roars Into CGI Life – Bigger, Stronger, And Fiercer Than Ever! https://t.co/FbWyDYPlM9 pic.twitter.com/x2P6pxJxo4

— nerdbastards (@nerdbastards) March 9, 2017
Film Review: 'Kong: Skull Island' Is A King Sized Adventure https://t.co/NfidbNL5il #KongSkullIsland

— Clayton Davis (@AwardsCircuit) March 10, 2017
#KongSkullIsland is out in the U.S. today; read our ? ? ? ? ? review here https://t.co/aduX9mx3EV pic.twitter.com/OCKmJDDObQ

— Flickering Myth (@flickeringmyth) March 10, 2017
#kongskullisland – Big, Loud, monkey business. Weak story and characters surrounded by great visuals effects. Nothing surprising.

??

— CinemaJaw (@CinemaJaw) March 9, 2017
'Kong: Skull Island' roars and rules: movie review – After a number of failed efforts to reboot the jungle tale… https://t.co/9mbcPfvxKi

— Rosa Nahuat Aguilar (@RosaNahuat9) March 8, 2017
I declare #kongskullisland a complete triumph! Action packed, beautiful cinematography, and extremely entertaining! See it soon! pic.twitter.com/uGRMhCY8pM

— Lego Loki (@Loki_Lego) March 9, 2017
'Kong: Skull Island' is a listless mixtape of homage and franchise "world-building" https://t.co/V071gXm8uH pic.twitter.com/uUGKtWFy2a

— Flavorwire (@flavorwire) March 9, 2017
#kongskullisland was excellent, throw back to the monster films of old, if you see it at the cinema don't leave until after the credits.

— Iain Harrison (@linkin73) March 9, 2017
#KONG is GOOD! Attended an early screening last night thanks to @AARONSCHWARTZ11 & it was bloody fantastic @kongskullisland #KongSkullIsland pic.twitter.com/WfDUqVwfcX

— Brad Everett Young (@BradEYoung) March 9, 2017
#KongSkullIsland @CloserOnline "Keeps the thrills and spills coming, serves up a jungle full of scary monsters. Brill. #TomHiddleston pic.twitter.com/ZrmAJrovpf

— Tom The Next Level (@TomTheNextLevel) March 8, 2017