Even Kanye West is a fan: Kendrick Lamar's 'To Pimp A Butterfly' is everyone's favourite album
Kendrick Lamar was a pretty angry rapper when he was forced to pull a Beyonce and drop his new album out of the blue on Monday morning, but despite being pretty ticked off by his music company's mistake, it looks like the world has gone into meltdown after hearing his artistic efforts, and we think it's safe to say that the vast majority definitely approve.
The album was intended for release on March 23 but after his track King Kunta found its way on to the web last week, the Kendrick decided to stop the hackers from leaking anymore tracks by leaking the album himself. In similar fashion to Drake's surprise mix tape which arrived on iTunes last month, the rapper simply tweeted his new album title To Pimp and Butterfly and a link to buy it.
Time reported that there are currently some big disagreements going on between Interscope and Kendrick's Top Dawg label after Top Dawg chief, Anthony Tiffith, went on a crazed Twitter rant and blasted the label for not following Kendrick's microblogging to push the LP's release. He tweeted: " I WOULD LIKE 2 PERSONALLY TAHNK @Interscope FOR F**KING UP OUR RELEASE… SOMEBODY GOTS TO PAY FOR THIS MISTAKE !!! #TOP"
Nevertheless, the album has got the world going wild, and has forced even some of the biggest music stars to stop in their tracks and praise Kendrick's work. But it isn't just his music peers that are impressed by Lamar's new EP, as a host of music journalists have also credited the rapper on his new album, with many awarding it five stars.
See what the world is saying about Kendrick Lamar's To Pimp A Butterfly:
"I'm fully in #topimpabutterfly" – Sam Smith
"KENDRICK IS AN INSPIRATION. THANK YOU FOR THE VIBRATIONS AND THE SPIRIT. YOUR MEANING, MESSAGE AND EXECUTION ARE GIFTS TO THE WORLD." – Kanye West
"KENDRICK PUT HIS ALBUM OUT EARLY. NO ONE TOUCH ME. @kendricklamar" – Taylor Swift

"To Pimp a Butterfly defies easy listening, but it's deeply rewarding. This is an album in the old-fashioned sense–like his debut, it makes greater sense as whole, and requires full engagement all the way through… Questions and conflicts about race and personal responsibility haven't been answered by presidents, sociologists or all the talking heads on television; it would be absurd to ask one man to have any or all of the solutions. "What's your perspective on that?" Lamar's asking us, because he's still searching. Because, despite the bold declarations, beautiful beats and brash imagery, To Pimp a Butterfly is not an announcement, it's a conversation." – Billboard
"This is an extraordinary record, full of poignancy, power, emotion and incredible production. It's perhaps not even a stretch to say that it's the most densely-themed, musically-audacious hip-hop album since Kanye West's My Beautiful Dark Twisted Fantasy. And if that doesn't make you want to download this album right now, nothing will." – GQ magazine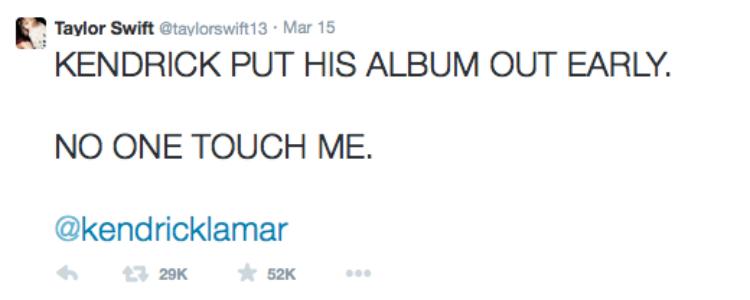 "Throughout, there's an important awareness of the gap between what a privileged, white audience needs to hear about injustice, its roots and effects – and what, on a personal level, an individual can find empowering." – The Guardian
"On "To Pimp A Butterfly," Lamar expands from regional concerns to address general issues of race, power, madness and desire… An instant classic." – New York Daily News
"I can't recall the last time hip hop made me jaw dropped. this Pac jawn gives me the chills yo…..im like….—-man…." – Questlove Gomez


"EVERYONE needs to listen to Mortal Man , #pimpabutterfly" – Lily Allen
"Listening to the new @kendricklamar album and it's amazing just as expected. go get it." – Imagine Dragons