Kanye West's Fans Ridiculed For Asking: 'Who's Paul McCartney?'
Kanye West probably couldn't believe his luck when he was able to collaborate with Paul McCartney on his new single Only One, but it was completely lost on the rapper's fans who have become a laughing stock on Twitter for not knowing who the Beatles legend is.
The 37-year-old rapper premiered the ballad, which was written for his daughter North from the perspective of his late mother Donda West, over the weekend and many were surprised that Kanye was able to enlist McCartney's piano-playing talents for the single.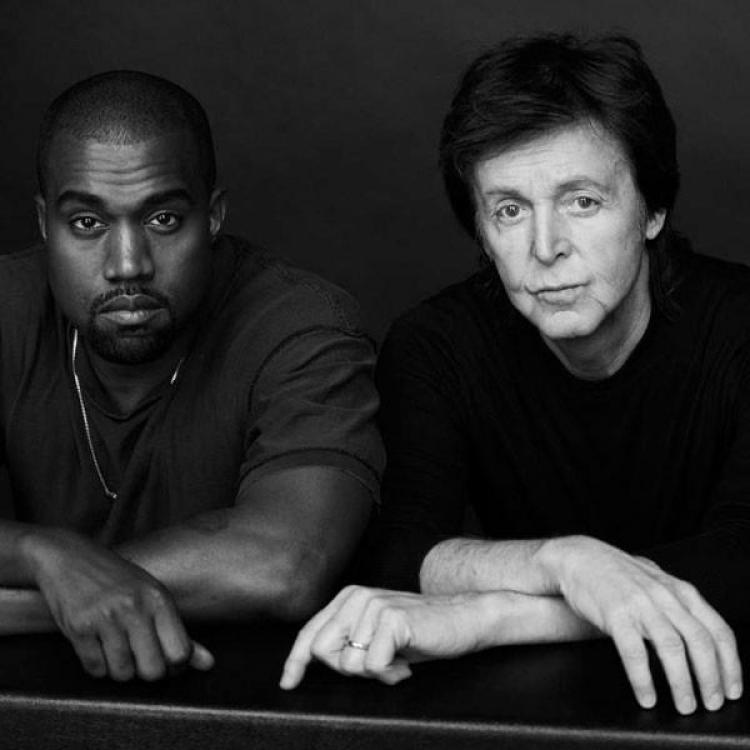 Kanye may have an ear for talent but Macca is most certainly NOT a new artist (Twitter)
Well, not everyone was impressed as a, dare we say it, relatively unintelligent group of young fans, had absolutely no idea McCartney was actually an iconic singer – not a newcomer whom Kanye has "discovered."
Among those not clued up on McCartney's legendary status: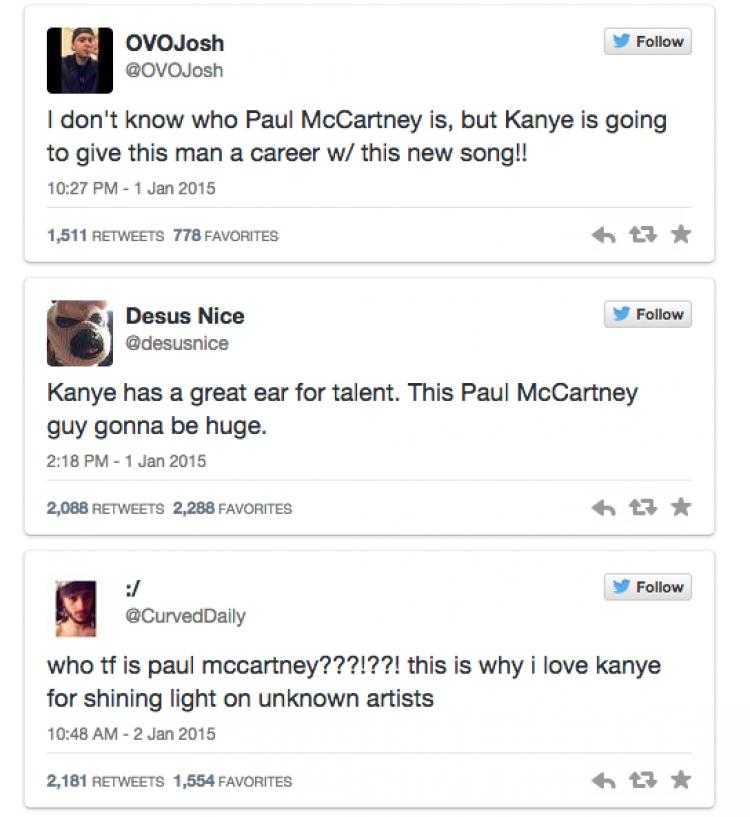 Fortunately, these young fans aren't the majority and they've been ridiculed by gobsmacked Twitter users who just can't quite believe they couldn't have at least Googled McCartney's name to find out who he is:
Erm… So apparently Kanye West fans are asking who Paul McCartney is? I don't know whether to be shocked or mortified. #wherehaveyoubeen?!

— Krystal Scanlon (@krystalxball27) January 4, 2015
So Kanye West fans don't know who the hell Paul McCartney is, Maybe the single most gifted Musician in history? Hmm. pic.twitter.com/BQfrBkowFi

— ??®. Brownstone (@MichaelSugue_) January 5, 2015
Kanye West fans giving him credit for discovering 'new artist' Paul McCartney… ? #deargod #musicoftoday

— Anthony Gibbon (@Gibbo19) January 5, 2015
@kanyewest fans don't know who @PaulMcCartney is!! This is everything that is wrong with the world #shocking

— julie ryall (@JulieRyall) January 5, 2015
When @kanyewest fans don't know @PaulMcCartney #smh #whatdoesthatsay

— Mildred_Thabane (@Mildred_Thabane) January 5, 2015
You get the idea… In the midst of all the hilarity, McCartney seems completely unaware that he's not a household name everywhere, as he tweeted: "For any of you guys who were wondering what I was doing with @kanyewest … Here it is: http://www.kanyewest.com Happy rocking new year!" Aw, bless him!