Justin Bieber To Appear In New All-Star Movie, 'New Year's Eve'?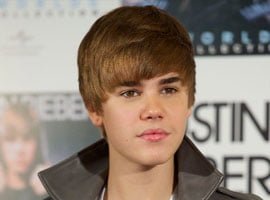 Director Garry Marshall is lining up Justin Bieber to play in the all-star movie New Year's Eve.
Justin has just starred in his first movie, Never Say Never, which premiered in Toronto on Tuesday night. However, with production about to start, it seems unlikely the teen sensation will end up in the film.
A source told E! News: "They tried, but it doesn't look like they're going to be able to make it work because of scheduling."
Last year, Marshall, who directed Valentines Day which starred Taylor Swift and Taylor Lautner, told MTV News: "Already, they're mentioning Justin Bieber.  I have no idea who that is, but I'm sure we'll meet.  Perhaps I'd better see who he is, so when he arrives on set, possibly (we can talk).  So we'll see."
Big names already lined up for the film include Katherine Heigl, Jessica Biel, Jon Bon Jovi, Abigail Breslin, Robert De Niro, Zac Efron, Ashton Kutcher, Seth Meyers, Lea Michele, Sarah Jessica Parker, Michelle Pfeiffer, Til Schweiger, Sienna Miller, Hilary Swank, Sofia Vergara, Ryan Seacrest and Ice Cube.
The film is due for release in December.
Would you like to see Justin on the big screen again?