The Irish version of the Daily Star has followed France's Closer and Italy's Chi in publishing the controversial topless photos of Kate Middleton, taken over a mile away from where she was holidaying in private.

The pictures have been met with outrage by the British public, and the majority of Entertainmentwise readers have said in a poll that the snaps should not have been published.
More countries around Europe are expected to publish the snaps, according to the Daily Telegraph… despite legal threats from St James' Palace.
The Daily Star's Republic of Ireland editor Mike O'Kane said in his defence: "The Duchess would be no different to any other celeb pics we would get in, for example Rihanna or Lady Gaga.
"She's not the future queen of Ireland so really the only place this is causing fury seems to be in the UK, and they are very very tasteful pictures."
Richard Desmond, who owns the Daily Star's UK publishing company, has said he is "profoundly dismayed".
A spokeswoman for St James's Palace said: "There can be no motivation for this action other than greed."
Earlier today it was suggested that Middleton and her legal team would be better off suing the publications rather than the individual photographer.
It seems we're a long way off hearing the last of this royal saga.
PHOTOS: Kate Middleton steps out in aftermath of scandal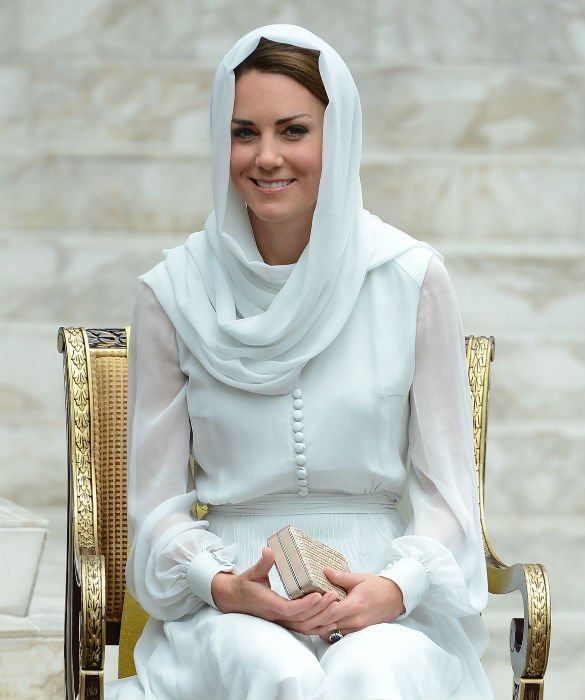 The Duchess of Cambridge, Kate Middleton visits the Asyakirin Mosque in Kuala Lumpur with husband
Prince
William in wake of topless photo scandal, Sept 14 (Splash News)