INTERVIEW: James Blunt Talks New Single 'Bonfire Heart,' Prince Harry Friendship and More
James Blunt has finally returned to music after three years away and it hasn't taken long for the crooner to make an impact on the charts with his brand new single 'Bonfire Heart' storming the UK charts at number six.
Sitting down for a candid interview with EntertainmentWise, James explains what took him so long to record the album, the lack of airplay the single has received and why he has gone back to basics with the new album 'Moon Landing'…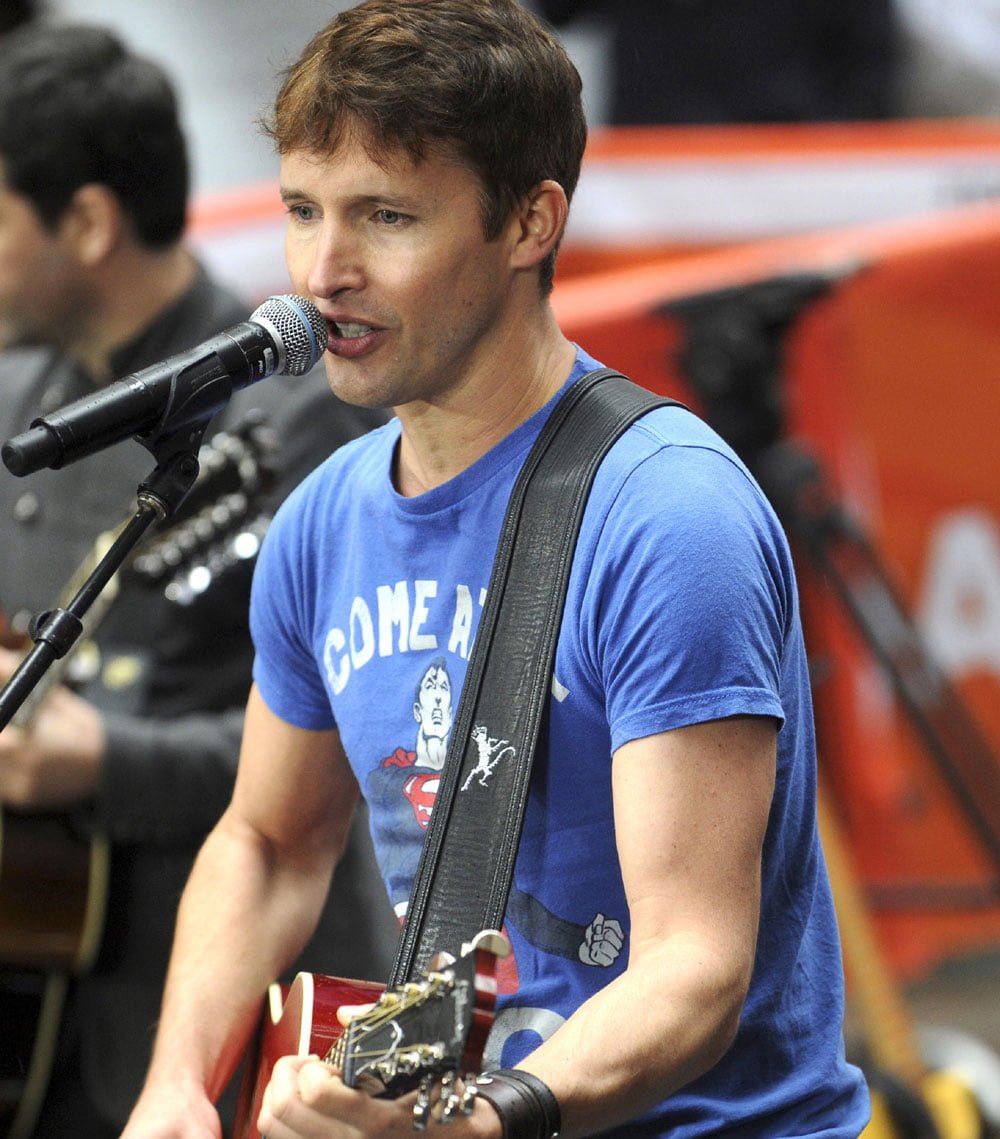 James Blunt performing on the Today show last month (Dennis Van Tine/Future Image/WENN.com)
So you're back with a new album, which we've just listened to and loved – how do you feel ahead of its release after having such huge success?  
Well first of all thanks for listening to it in the first place! It's hard to say, it's taken a year to make, I've been locked in the studio for the past year working on this on the whole. I've spent a little time with Martine Terefe who did KT Tunstall and Jason Mraz and stuff but the majority of it was with Tom Rothrock who recorded 'Back To Bedlam' with me so for that reason it was kind of going back to where I started when I was this indie artist when I was signed to Custard records. I think the pressure I find is not really in it's release but in it's recording.
With the recording, you only get one shot of these things really and you want to make the best album you possibly can and I felt all that pressure then and then when you put it out it's whatever will be will be. I suppose being what I was like I say which was an indie artist and my producer worked with artists like Beck and Badly Drawn Boy and these guys have got some incredible music but you don't hear it necessarily in the charts so that teaches me that perhaps the charts aren't the most important thing.
It doesn't vindicate good music it's just measuring units sold. But at the same time who am I kidding, of course it's an exciting time and of course you don't know what the reaction's going to be and if people are going to enjoy it mainly because I'm going on my tour next year and I want people to turn up to my shows!
So it's one of those things and this week has caught me by surprise in one of the most amazing way. I'm an album artist over here in the UK so for this single 'Bonfire Heart' to be mid weeks at number six as it stands at the moment and to have the airplay it's had and the audience support I've had has totally caught me unaware and totally mind blowing to watch and humbling in many ways.
Do you still feel as competitive or are you more relaxed the more albums you do? You're first single from the album, 'Bonfire Heart' currently doing really well on the iTunes charts at number six and climbing in the UK and number one across the world – are you surprised how well it's done?  
Yeah absolutely. You know what round the world I have more confidence but I was sent a picture yesterday of it at number one in the iTunes charts in shed loads of countries. It's been great fun, it's really been a fantastic week and it's really amazing to see.
Is it quite comforting ahead of the album's release to see the single doing so week?  
Well I think you never know what's going to happen and I'm just enjoying the support and I feel really grateful for that and that's as far as I would take it really.
What's the story behind the single 'Bonfire Heart'?  
Well I wrote it with Ryan Tedder, who's a mate of mine who I've worked with before and I finished my tour around Europe so I jumped on his tour bus with his band. I was like a groupie to One Republic although I didn't have to put out! We wrote the song in Amsterdam and Luxembourg and recorded it in Boston and mixed it in Los Angeles and it kind of made sense because the song is about no matter who you are no matter where you're from it's about the human condition which is we need to connect with people.
The lyrics are simple: "People like us don't need that much, just some one to light the spark in our bonfire heart." And the video just really tied in with that, the video was really fun to make. I love motorbikes and so I went to Wyoming and Idaho and we went travelling across hundreds of miles across these two states. You don't have to wear a helmet there, which was cool for that and with an amazing back drop to that part of the world and me on my bike it was 'Top Gun' meets 'Brokeback Mountain' and we used real people not actors because we wanted the song to be as honest and genuine as we could and we wanted a video to match that.
Then the most amazing bit of it was pulling up to a car park in the end and not realizing in the bar in the car park a wedding was taking place and the wedding party saw us and spilled out to see what was going on and so to the bride and groom I got out my guitar. I played them songs in the car park, I played them 'Bonfire Heart' and spontaneously surrounded by their friends and family the bride and groom had their first dance, in the car park and that is what we filmed that is the ending of my video. That's what you see on YouTube now. Absolutely incredible, you could not have scripted it and it looked amazing. She was crying her eyes out, the crew were crying their eyes out too (I wasn't crying because I'm a man, obviously!) so it was a huge honour to be part of and it became their wedding video!
You worked with Ryan Tedder on the album who's currently number one with OneRepublic – is there any competitiveness between you both ahead of this weekend's chart?  
Not at all, at the moment we've been speaking to each other several times a day. No not at all, it's kind of interesting how these things pan out because we're kind of the same age, our audience is pretty much the same to a degree, the song I wrote with Ryan Tedder. I don't get played on Radio 1 and he does! But for your friend to have a number one is absolutely amazing.
He's deserved it for a long time too hasn't he?  
Yeah and it's really wonderful to watch. Amusingly I'm at number six in the mid week chart and OneRepublic are number five in the mid week charts and if I were to overtake him I know he'd be thrilled. I'm not going to overtake him but I know if I did he really would because it's just a thrill to be happy for each other.
Did it bother you that Radio 1 didn't give your song any airplay?  
No, it's just one of the reasons I'm not normally a single seller because Radio 1 will drive single sales and why in the UK I'm an album seller. It's a different thing for me overseas as you can see from those charts.
You've said you've gone back to basics with this album – is this album the best representation of you as a musician and song writer, have you put more of you in this album?
I've definitely out more of me into it yeah. I think perhaps on the second album I brought my touring band in and they made it sound richer perhaps with their great musicianship. But I think perhaps I enjoyed not hiding behind great musicians this time, playing lots of little instruments rather than just myself so for all the naivety that I might play in all the songs that is the quality one hopes. But again with the third album I hid behind a lot of production and recorded in some really amazing studios. Again I love what that album did for my tour, there was a a lot of upbeat songs. If I'd had a third album with more down temp songs, the live show in those larger venues would have been quite a struggle.
But that album brought uptempo songs to play in those large venues I've been playing in. But absolutely I was writing for an audience then, I was saying the words I thought you'd like to hear and now instead I'm writing words I needed to say about real life experiences that I've gone through and yeah I've given myself completely to that.
It's been a very personal songwriting experience and in the recording it was just me locked away in the studio with Tom Rothrock who I did my first album with and recording it in that indie way which before 'You're Beautiful' took it to this dirty place called mainstream that's been it's journey and it's been a really special one. That's why I am genuinely sort of about 'Moon Landing' whatever happens now is out of my control but what I can say is it mans a great deal. I love this album.
What's your favourite tracks from the album?
I love a song called 'Blue on Blue' which a recorded with Martin Terefe of Jason Mraz and K T Tunstall fame and it's a live take on a performance. 'Blue On Blue' is a military term, the same as friendly fire, when two soldiers from the same army shoot at each other by mistake and I relate that back to relationships I've been in because sometimes we hurt the ones we love the most. I love a song called 'Always Hate Me' which sounds like a spaghetti western with two cowboys moving towards each other out side the saloon as they're about to draw their pistols and fire apart from you would be one of the cowboys and the other down the road is your ex girlfriend!
There's a track on the record 'Miss America' which was inspired by Whitney Houston – what was to about her, or at least the story of Whitney that compelled you to write the song?  
I guess really, just what a phenomenal talent, an incredible, beautiful voice and how we watched some one like that and feel we know them perhaps and how the tragedy of her dark demons overtook what it is she became known for in the first place and in many ways our role in that as spectators. Hers is the same story as some one like Amy's [Winehouse], as Marilyn Monroe's and the common factor in all of them is perhaps us and how we enjoy spectating just a bit too much.
Did you ever meet her?
No I didn't.
When 'Back To Bedlam' came out you were one of the biggest artists in the world, right in the centre of that media bubble, could you have ever been in trouble of going down a similar path?
No I don't think I was. I think I started later and when things got difficult I've been able to call my mates up and say "I've had a difficult day and someone was horrible about me in an article they wrote that day," and they would say well so and so's just had their legs blown off so it puts life into perspective. Some of my friends and my family are still serving in the army and that definitely has made me realise that the real 'celebrities' of the world are not musicians and actors but doctors who save a life or nurses or teachers who educate and aid workers who re build countries.
You've said with this album  that it's "about looking in the mirror and seeing the boy you were, the man you are – and learning to be comfortable with that, flaws and all," what inspired to make such a reflective album at this stage in your life?
I think music is in my blood and to have those experiences of writing those previous albums and not necessarily giving much of myself, I didn't want to, I genuinely didn't want to after that first album and what it did, then who wants to expose themselves again? Who wants to put themselves in a position of being judged so highly? But I think in many ways that's my job.
Once upon as an army officer I would go ahead of my superiors and I would be their eyes and their ears and I would absorb the world, I was aware and in singer-song writer terms I was 'sensitive', sensitive of my surrounding and the enemies intentions and I would go back to my officers and I would tell them when dangers are ahead of them. Maybe as a musician I feel I do the same thing, the more aware and sensitive I am to my surroundings and I make up songs, get up on stage and I sing them. There's no point in me lying, there's no point in me having some shell or bravado.
My job is to put myself out on the line in an emotional way. We have this strange relationship where you have one man and his guitar and it doesn't seem very macho kind of thing. But I feel a song with emotion otherwise it's like a painting. If a painting didn't have any emotion in it, it would just be wallpaper. The whole notion of art is to make you feel something and for all the critique you may get it takes a certain person to say I'm at ease with myself, I'm at ease to be able to stand on a stage by myself and not tell people how cool I might be but instead say these are the things I'm afraid of.
These are the insecurities of life, these are the things we have gone through in the past and the fears of what might be in the future but also the hopes as well because I know that's what connects people because s**tloads of people turn up to my concerts and connect with it.
This album you've worked with Tom Rothrock who you previously collaborated with on 'Back To Bedlam' are you hoping to match the same success with this record?  
I don't think that will happen. It doesn't have 'You're Beautiful' on it and 'Bonfire Heart' is doing a thing that has been totally unexpected to me. But no I don't think that would happen again. I don't really need it to either, I think it will do it's own thing, whatever will be will be. From a musical point of view, they're the strongest songs I've ever written and on an emotional level I've laid myself out on the line in doing so and what you're hearing in this album in many ways I was just in the studio with a microphone and I said to Tom "I'm struggling a little bit because the audience is out there and I can't connect with them."
It's easy in a live show because I can look you in the eye and I can see you but when you're not there it's really hard and he said you need to stop doing that. These are personal song, not about the audience, you can't second guess them and if you're having that difficulty then why don't you do something simple which is just sing to me?"
So just through the glass of the recording booth I sang directly to my producer, my friend, who'd taken me on this journey some ten years ago. So what you're hearing is a direct conversation of these songs, sung directly to one, so that guy in the control booth became more like a mirror. All I could see was my own reflection and when you're confronted with yourself you can't lie. So sometimes you're hearing the madness of someone talking to themselves.
Would you say this is perhaps a follow up to 'Back To Bedlam?
I think exactly that! I made this indie album with an indie prod.ucer and an indie label and then on it, it had 'You're Beautiful' which chucked it out into the mainstream. When a song's known in that way, people can look down on that in many ways. So I went on this incredible journey of three world tours and two albums and subsequent albums and if that hadn't all happened and it had just been me and Tom we would have got in the studio and we would have recorded 'Moon Landing'.
You said this is the album you would have made if 'Back To Bedlam' hadn't sold millions – is that indicating you didn't necessarily make the music you wanted to after your first album took off so massively?  
'Back To Bedlam' launched you as the biggest artist on the world for a while, you won countless awards, the album is the second or third biggest selling album in the UK of the century still – what was the craziest moment for you during that time?
The thing I never expected to play along the way was to perform at Glastonbury, played there three times, twice on The Pyramid Stage and those are things I never expected in my life.   You've received a lot of stick in the press but you always seem to brush it off really well – do you still get offended by what people think of you?
I think with great commercial success, it's going to happen and in many ways that's just music. When you're very visible then you're going to get a more negative streak along it but you have to understand that those negative things only come in because of the positives. Haters always shout the loudest.
Prince Harry brought his girlfriend Cressida Bonas to your gig last week – did you know they were going to be there?
I did, yeah. I know him through my army days when he was in the same regiment as me.
Did you get a chance to speak to them at all?  
Yeah for me, if I take anything from that, I enjoy the fact that it was a pretty diverse crowd at one of my concerts.
Mumford And Sons recently blasted UK snobiness saying they get picked on for being posh so they prefer playing in other countries where they're classless – being dubbed the poshest man in pop would you agree with that?
I actually put this accent on, I'm from Yorkshire because I thought posh was the new black.
James' new single 'Bonfire Heart' is out now while the album 'Moon Landing' is out on October 21.