Harry Styles The Footballer? One Direction Hunk Scores Goal During Niall Horan's Charity Match
Harry Styles may be known as one of the heartthrobs in the biggest boy band in the world, but it turns out that he might have a lot more to offer than singing to teenaged girls.
The singer took part in Niall Horan's charity football match on Monday, and showed off his footballing skills by scoring a goal.
After being fouled, the 20-year-old was sent to the penalty stripe, and successfully made the shot causing his entire team to run up to him for hugs and high fives.
His mother Anne was especially proud of her son's goal. She took to twitter to praise him.
"You're all telling me H scored! Bravo!! @Harry_Styles Jolly good shot," she tweeted.
The charity match was hosted by Harry's One Direction band mate Niall Horan, who created the event to raise money for Mullingar based charity Irish Autism Action, Leicester City Foxes Foundation, and UK charity Heart and Minds Challenge.
Taking place in Leicester at King Powers stadium, it also featured many other celebrities as well. In addition to Liam Payne, Louis Tomlinson, and Harry Styles, Niall's team also featured singer Ronan Keating, comedian Jack Whitehall, actor James Corden, and singer Olly Murs.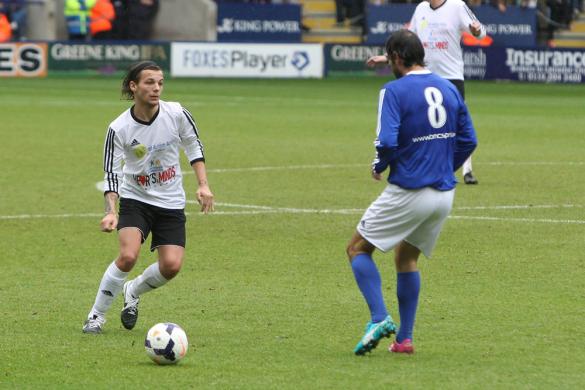 Louis Tomlinson did his best as well (WENN.com)
Piers Morgan also took part in the game as the coach of the opposing team. Unfortunately for Niall, Piers' team won after a tie game led to a penalty shoot-out.
Piers took pride in his win and used twitter to boast about it to Niall.
"In football, as in life, there are winners and losers. Thanks for coming mate @NiallOfficial .. #BOOM," he said.
One Direction are currently on their Where We Are stadium tour, which will continue in Sunderland on May 28.