Girls Aloud, One Direction, Kylie Minogue, Chris Moyles, Susan Boyle And Peter Andre Join Forces For Children In Need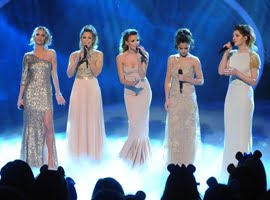 Photo: BBC Pictures
Tonight saw the return of the the BBC's annual Children In Need telethon, during which the likes of Girls Aloud, One Direction, Susan Boyle, Peter Andre, Chris Moyles, Lord Sugar, Lee Mack, Kylie Minogue and many, many more celebrities, volunteers and fundraisers joined forces to help raise millions of pounds for the great cause.
The show, presented by Terry Wogan, Tess Daly and a heavily pregnant but of course gorgeous as ever Fearne Cotton, aims to provide a night of entertainment while reminding us of the all important and heartbreaking reasons the BBC works so hard to raise money children that need it.
Of course, the show wouldn't be complete without a little comedy sketch from Albert Square, where The Apprentice's Lord Sugar bumped into many of the Eastenders cast, who unfortunately didn't seem to impress the entrepreneur enough to land themselves a business loan.
Peter Andre found himself in Asda, where he helped thank the staff and customers who have been busy fundraising throughout the supermarkets over the past few weeks.
An impressive use of technology brought the late comedy duo Morecambe and Wise back to life as all singing all dancing holograms, who were joined by a tap dancing Chris Moyles on stage during tonight's show.
Comedian Lee Mack was interrupted by a Terry Wogan while trying to film his sitcom, which ended with Wogan knocking Mack out with a giant fish. You had to see it to believe it!
Britain's Got Talent winner Susan Boyle joined the host of celebrity supporters as she sang a beautiful rendition of 'Over The Rainbow' to a moving video that showed how the money donated to Children In Need can help children who have lost parents and siblings.
Team GB also contributed to the fundraising efforts by making a brilliant 'Do Your Thing' music video that includes Tom Daley stripping and Zara Phillips dancing Gangnam Style. It really is a sight!
Girls Aloud returned for their second performance of the evening wearing elegant cream, gold and white gowns as they sang their upcoming single 'Beautiful Because You Love Me'.
And if that wasn't enough, One Direction, who flew back to the UK from the US especially for Children In Need, took to the stage to perform 'Little Things,' also their second performance of the night.
The boyband's Harry Styles almost lost his lovely locks when Fearne Cotton approached him with some clippers, but thankfully, she decided that the backlash from the fans would be to much for her to handle. We'll admit, there was a moment there where we really thought Harry would be joining Liam Payne in the shaved head club.
Meanwhile, pop legend Kyle Minogue joined the BBC Concert Orchestra in London's Hyde Park, to perform a concert for thousands of fans that had braved the cold in a bid to raise more cash.
And that's not even half of the jam-packed show the BBC has put on this evening. To find out about Cheryl's slip up and watch Doctor Who exclusives, check out our round up of the first part of Children In Need 2012 here.
Girls Aloud Are Back! The Band's Career In Pictures
Girls Aloud Are Back (Wenn) 19/10/2012