DUI prone Lindsay Lohan mocks driving in Super Bowl advert
Lindsay Lohan clearly has a great sense of humour as the Mean Girls actress made an appearance in a Super Bowl advert yesterday, playing a mother with poor driving skills which, of course, is ironic considering her colourful history of reckless driving.
The 28-year-old, who could be facing jail time thanks to a dispute over her community service, turned on her acting chops to star in a 40-second commercial for car insurance company Esurance, playing a soccer mum picking up her young son from school. Not too far from Lindsay's real life personality, the actress screeches up to the school where her 'son' and his mate were waiting outside, knocking over a sign and mounting the curb in the process.
LiLo has been in six car crashes since 2005, including her first DUI offence in 2007 where her Mercedes Benz was driven into a tree, so if anyone should be thinking about insurance, it's definitely the actress.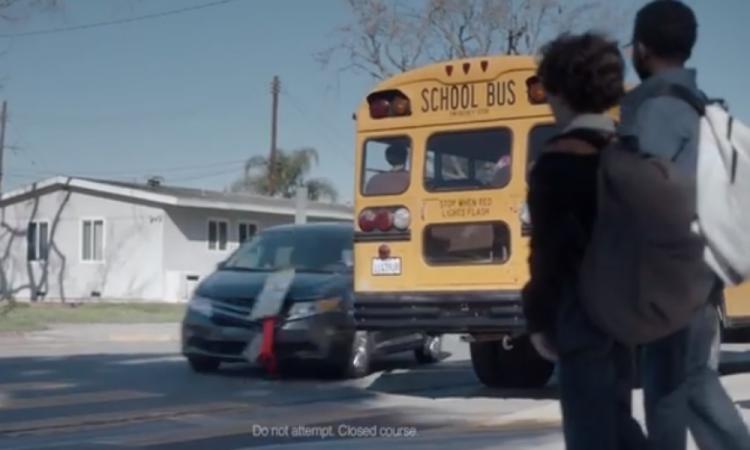 Lindsay Lohan pokes fun at her bad driving in the Super Bowl advert (YouTube)
Her terrible skills behind the wheel didn't go unnoticed though as the friend remarks: "Your mum's a terrible driver," but clearly embarrassed, Lindsay's 'son' insists: "That's not my mum." He's right though as Lindsay isn't actually his mum – probably for the better – as she retorts: "Hey, I'm sorta your mum, we're both 25 to 35 years old, we're both women on the go and we've both clocked a lot of miles." She may have a point there!
Proud of her star turn, Lindsay has been promoting her latest acting gig all week on Twitter and Instagram, although she's not the only celebrity who appeared in one of the many lucrative advertising spots during last night's big game as Britney Spears made a surprise appearance in a 10-second commercial promoting the Super Bowl while Kim Kardashian starred in a T-Mobile ad.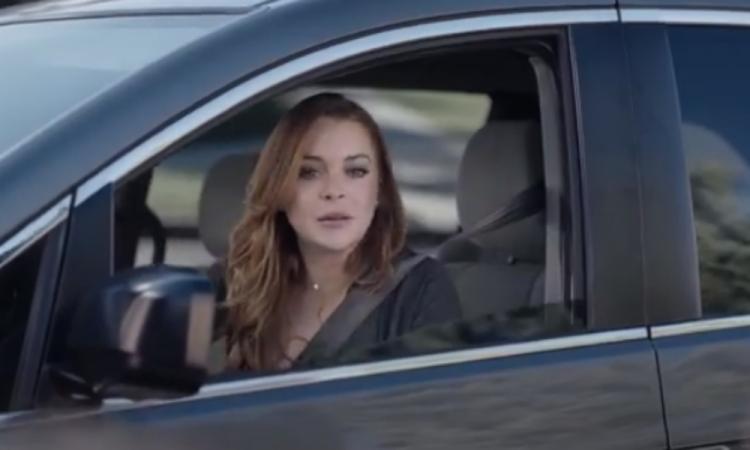 The actress also plays a mum in the Esurance commercial (YouTube)
It's even more ironic that Lindsay appeared in a car advert considering she could be facing jail time in relation to her 2012 reckless driving conviction. It was reported last week that the prosecutor in Lindsay's case isn't happy about her community service, claiming that she "manipulated" the 240 hours she had to carry out by choosing work that was related to her acting. Last year, Lindsay spent time living in London while she appeared in West End play Speed the Plough, and allowed acting students to shadow her for work experience, while she also hosted meet and greets for fans, both of which she noted as community service.