Donald Trump signing executive orders becomes hilarious meme
Donald Trump signing controversial executive orders to ban travellers from several muslim countries has become a hilarious meme on the web after thousands of Twitter users trolled the POTUS with pictures and videos of Trump holding up a whole array of hilarious pictures.
@TrumpDraws seems to be the twitter account trolling Trump which shows him holding up childish animal doodles, self-portraits and captions like "dinosar". The account was created just 2 days ago and has attracted 163K followers already.
Since the meme has spread many new images have appeared on Twitter showing Trump holding up funny and weird pictures and messages instead of the executive order.
The best Donald Trump executive orders meme we could find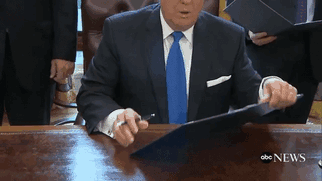 @TrumpDraws pic.twitter.com/naINX6uFx5

— INTern?lJ (@JKPwnage) February 1, 2017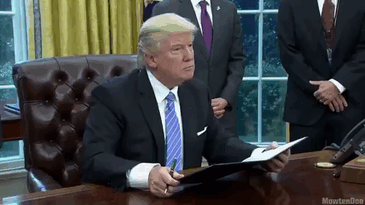 Hey @TrumpDraws you missed one pic.twitter.com/TucS2Bxw3R

— RJ (@bobismighty) February 1, 2017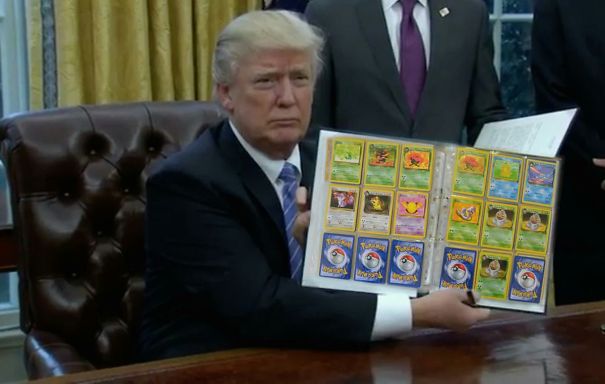 dinosar pic.twitter.com/R629EU9WDh

— Trump Draws (@TrumpDraws) February 1, 2017
— Trump Draws (@TrumpDraws) January 31, 2017
RT @TrumpDraws Obama, maybe. pic.twitter.com/eL98IUWT4j

— THE LAST MENDIGO (@pqpmendigo) February 1, 2017
@trumpdraws giving props to #iLikeTurtles #trumpdraws #turtles Watch #Instavideo:https://t.co/Ec92RQEHvp pic.twitter.com/5mAvfqU3o1

— Second Crop Creative (@2CropCreative) February 1, 2017
We think this Donald Trump executive orders meme will just keep giving. Until whatever riles the internet populace next and then we're sure there'll be a meme that is just as funny. Do you feel for Trump or think he deserves it? Feel free to leave a comment below, while you still can!
Make sure you stay tuned to EntertainmentWise's Facebook page to catch even more Donald Trump memes and funny videos and images. We're first for political news when it's this much fun and always first for celebrity gossip even when it's not fun.