'Definitely Not': Robin Thicke Rules Out Another Performance With Miley Cyrus During TV Interview
It looks like we won't be seeing a repeat of Robin Thicke and Miley Cyrus' controversial MTV VMA performance any time soon as the Blurred Lines hit maker has revealed that his performance with Miley was just a one off.
Appearing on Alan Carr's Chatty Man tonight, Robin will be seen answering Alan's questions about the reports that he and Miley will be performing together again. He says: "Oh no, no no no", before adding: "No no, definitely no, definitely not."
The talented musician will also be quizzed about how close he performed next to Miley at the VMA's. As a result, Robin will be seen insisting that he never looked at the Wrecking Ball star in the wrong way.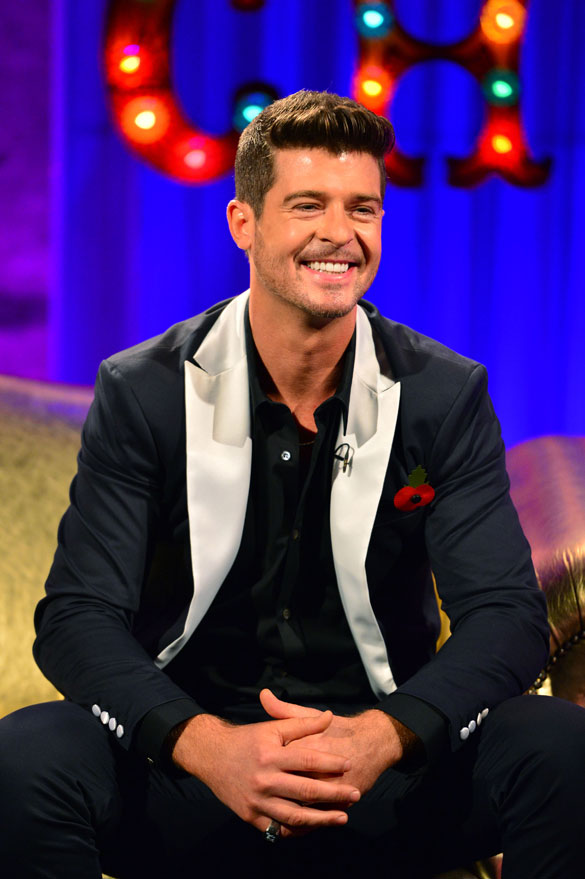 Robin Thicke has ruled out another performance with Miley Cyrus (Channel 4 / PR)
He says: "I never, I never looked at her – that would have been rude. I looked in her eyes, it was all about heart."
Robin will also be seen recalling the events that happened before he took to the stage with Miley, admitting that he didn't know she was going to come out on stage in a nude bikini.
"I did, you know the only difference was she didn't wear that outfit in rehearsals, so it never seemed as bad, it seemed more playful. And to us, there was no sexuality between us, it was all silliness and fun – it was like throwing a party at your house and being silly", he will say on tonight's show, before adding:
"But I understand how  […] it might have offended some people, and especially because she – everyone knows her as Hannah Montana. It would have been different if it was Rihanna or a different girl, you know what I mean, but the fact that it was Hannah Montana, becoming a woman and doing it they way she wanted to do it."
"But it wouldn't have matter who she was performing with, she would have done that – I had no effect on her performance; she would have done that with anybody, that's how she likes to dance," he added.