We all know that Chris Hemsworth has the body of God, sadly when he plays that God in Thor it's concealed beneath a thick suit of armour but thankfully that isn't the case in the actor's latest movie, Vacation, and it isn't just his abs you get an eyeful of.
Nope. Not only does Hemsworth, who plays the role of Stone Crandall, the husband of Audrey Griswald (Leslie Mann) flaunt his chiselled chest in the movie trailer, he also shows off a ginormous bulge – too ginormous to be real, surely!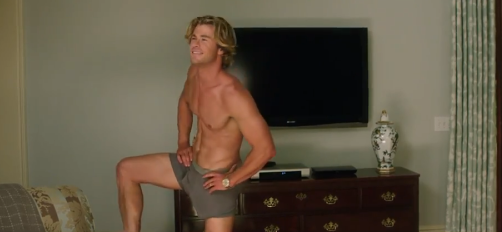 In a scene that sees People Magazine's Sexiest Man Alive proudly show off his ripped physique to his brother-in-law Rusty Griswold (Ed Helms) and his wife Debbie (Christina Applegate) the actor walks in to their bedroom wearing nothing but a pair of tight khaki boxers as he checks that the couple have everything they need for the night. Though Rusty suspects he has other motives as he tells his wife, "he totally just came in here to show off his six pac." We think he's probably right, but we're not complaining!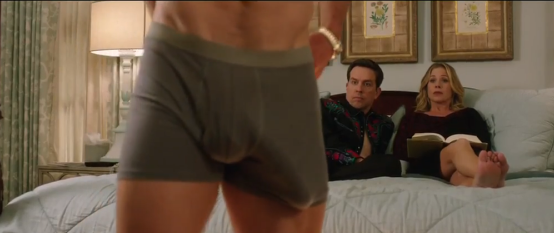 Vacation is the latest installment in the National Lampoon's Vacation series and follows Rusty and his family as they embark on a trip to Walley World – an amusement park featured in the first film back in 1983 – but of course the trip isn't without its catastrophes.
The movie also stars National Lampoon original Chevy Chase as well as Charlie Day (Horrible Bosses), Keegan-Michael Key (Let's Be Cops) and Adult Beginners' Nick Kroll.