Captain Wales! Prince Harry Qualifies As Apache Helicopter Commander
Prince Harry has again hit the headlines and this time for work reasons, as he has managed to qualify as an Apache Attack Helicopter Pilot.
The 28-year-old earned the title after he completed three years of training, which included a tour of duty in Afghanistan.
The news was announced by Britain's Defense Ministry, who named the third in line to the throne as the best front seat pilot, or co-pilot gunner out of a class of 20 Apache helicopter pilots back in 2012.
Prince Harry, or Captain Wales as he is known to his army comrades, was seen letting his hair down last weekend when he was spotted with girlfriend Cressida Bonas at the Glastonbury Festival.
No doubt the prince and his latest galpal stayed in a luxurious yurt, rather than a simple tent like most who attended the world famous event.
Although the splendid news of Harry's new job title is no doubt cause for celebration, the British public and royal watchers around the world are waiting for news on the birth of his first nephew.
Prince William's wife Kate Middleton has been tipped to give birth to their first child with in the next couple of days.
PHOTOS: Prince Harry Showing His Tender Side At A South African School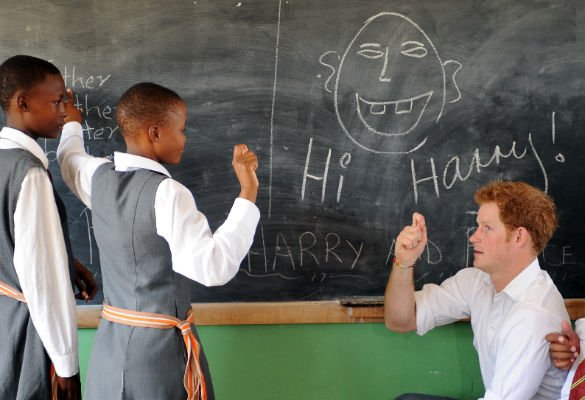 Prince Harry is taught sign language by pupils at the Kananelo Centre for the Deaf in Africa (James Whatling/Pool/Splash News)