Tyga's ex Blac Chyna makes fun of Kylie Jenner's uber lips
Uh-oh, we smell a storm brewing and we're not talking about the weather, if you catch out drift. Blac Chyna has just thrown some MAJOR shade at young Keeping Up With The Kardashian's star Kylie Jenner, whose lips have become the subject of a new craze – the #KylieJennerLipChallenge.
They say a picture says a thousand words, well in this instance a simple lips emoji did the job. Chyna, real name Angela Renée White, officially declared war with the reality star almost a decade her junior, with a picture of herself lay down on the floor sporting a pair of red Wack-O-Wax lips, arguably baring a startling resemblance to little Ms. Jenner.
She followed up with another pic of just the lips and the caption: "Will be available on @88_fin." So, while her tongue-in-cheek shot may have been all in the name of a bit of shameless promo work, we're guessing those lips have been talking trash.
Of course, the pair have had a particularly explosive history. Blac Chyna was engaged to Jenner's rumoured boyfriend Tyga, with whom she shares a baby boy King Cairo Stevenson, until August 2014. Just months later, the rapper was regularly spotted with Kylie sparking allegations the rapper and the minor were an item.
Although we get Chyna's Instagram is clearly a scathing swipe, other young girls have taken worryingly desperate measures to get Kylie's trademark pout. Twitter was flooded with selfies of teenage girls sucking on a bottle or glass until their blood vessels burst. WTF! Unsurprisingly, doctors are not recommending the #KylieJennerLipChallenge and neither is Kylie.
Calling out to her 8.92 million Twitter followers, the teen idol warned her fans not give themselves a fat lip all in the name of fashion.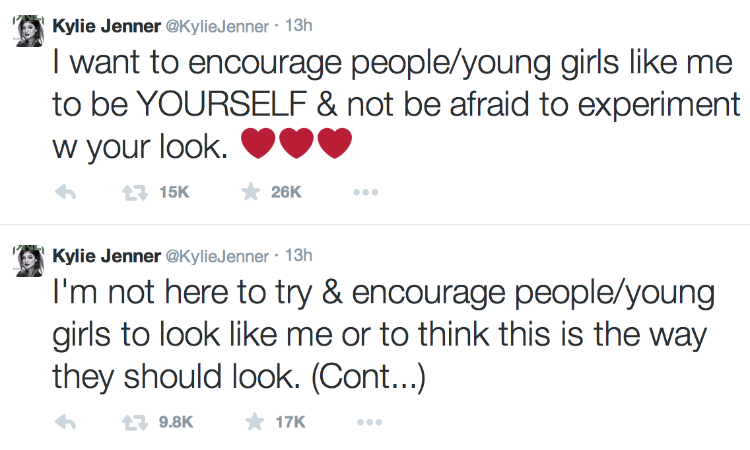 "I'm not here to try & encourage people/young girls to look like me or to think this is the way they should look," she wrote. "I want to encourage people/young girls like me to be YOURSELF & not be afraid to experiment w your look. (sic)".
Several youngsters have admitted that their desperate attempts to look like Kylie have left them scarred. "Made my chin look like a hickey a week ago and I'll say I've never felt so dumb," one gutted tweeter wrote, while another said: "I did the #kyliejennerchallenge and my lips turned purple."
So be warned. The Kylie Jenner Challenge is not cool. At all.