Angelina Jolie In Car Accident After LA UnBroken Screening
Angelina Jolie has reportedly been involved in a car crash after the vehicle she was travelling skidded due to poor weather conditions. The actress was travelling home after attending a screening for her new film Unbroken when the incident occured.
Angelina, 39, was a passenger in the hired vehicle when it skidded due to heavy rain and hit a kerb in Los Angeles last night. Two of the car's tyres then exploded due to the force of the impact leaving the Hollywood star stranded at the scene. It is unknown if he was injured.
She remained inside the damaged vehicle while she waited for a second driver to be dispatched by the hire company to collect her and carry on with her journey, according to reports by X17 Online. A source described the incident and suggested it was highly likely that Angelina may have suffered whiplash in the accident.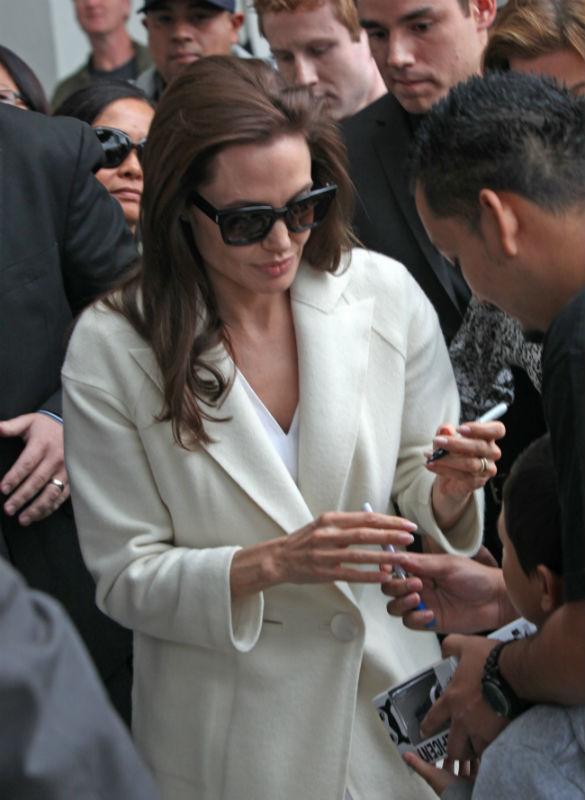 Angelina chats to fans at the Unbroken screening shortly before the accident (SPLASH)
They said: "The car slammed into the curb at a significant speed. Angelina must have wondered if they hit another car. It was pretty bad – the tire exploded and it's amazing nothing worse happened to the car. I wouldn't be surprised if she has whiplash."
Earlier in the evening Angelina posed for pictures and chatted to fans, smiling and signing autographs outside the Beverley Hills based theatre where the showing was scheduled, before she exited and climbed in to the waiting vehicle to begin her journey.
Angelina's representatives are yet to comment on the accident.