Fans of One Direction hunk Harry Styles have taken to Twitter to vent their frustration over their favourite 1D member being nominated for the Villain of the Year award by British music magazine NME earlier this week.
He may be generally thought of as a funny and charming, cheeky chappy but it appears that not everyone thinks that Harry Styles is such a nice guy.
The One Direction hunk has been nominated by NME magazine as the Villain of the Year for their annual music awards for the second year in a row.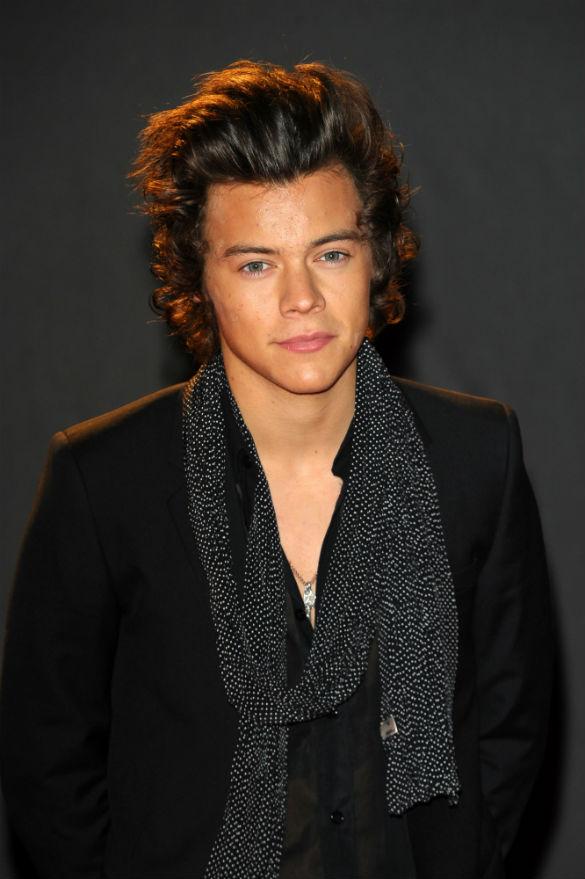 Nice guy or Villain of the Year? (WENN)
Harry will go up against the likes of British Prime Minister David Cameron, rebellious pop stars Miley Cyrus and Robin Thicke, comedian Russell Brand and Russian President Vladimir Putin.
Now, Directioners aren't going to take this kind of treatment without a fight. Many Hazza fans took to their Twitter accounts after hearing the nom news to defend their favourite boy bander.
"harry styles is villain of the year" are we talking about the guy who tripped over a bunch of puppies and apologised to them after

— PLEASE LUKE ILY (@nouisdonuts) January 16, 2014
IDGI WHY HARRY STYLES IS NOMINATED FOR VILLAIN OF THE YEAR, HARRY STYLES AKA THE MAN WHO BOUGHT PIZZA FOR HOMELESS PPL I MEAN JUST H O W

— JOYCE HAS EXAMS (@holyfreakniall) January 16, 2014
harry is nominated for villain of the year something is completely wrong here harry styles has the biggest heart he isn't a villain

— beth (@painfulouis) January 15, 2014
harry styles the villain of the year who would probably pose for a picture with a fan while they were breaking into his house

— rosie harry hosie (@wonkypinkyharry) January 15, 2014
"harry styles is nominated as villain of the year" that kid puke rainbow and farts butterfly how is he a villain

— rotten tomato (@tomatogucci) January 16, 2014
Harry Styles villain of the year? He's sharing his gum with everyone even with the paps @NME pic.twitter.com/skgOjyjcgn

— Diana ? ? (@DianaOfficial25) January 16, 2014
It wasn't just Harry who faced an unfavourable nomination, One Direction also received a nod in the Worst Band category.
Joining them in the group are fellow bands; 30 Seconds To Mars, The 1975, Imagine Dragons, Muse and 1D's rival boy band, The Wanted.
Many Directioners took this as an opportunity to throw shade at The Wanted, saying this is one award they can finally win.
One Direction,The Wanted Nominated For Worst Band In NME Awards 2014. http://t.co/7f1X1RFgJA Are you kidding me? What nominations are these?

— Barbie | FollowLimit (@Helena_tennis) January 16, 2014
NME "Worst Band" nominations: One Direction, The Wanted, The 1975, Imagine Dragons, 30 Seconds to Mars, & Muse. pic.twitter.com/rYI0b7w0yS

— Zoey Guyer (@zoeyloves_o2l) January 16, 2014
One direction and the wanted are both nominated for worst band of the year ITS THE WANTED'S TIME TO SHINE WE SHOULD GIVE THEM A CHANCE

— haanya (@1Directionah) January 16, 2014
guys why don't we help the wanted win an award they deserve it more than one direction tho they're nominated in the category 'worst band'

— renzmari (@h0lyh0ran) January 16, 2014
the wanted is nominated for worst band i think we all should make the twfanmily a favor and vote for them so they can finally win an award

— not beyonce (@versacenarrys) January 16, 2014
"Nominated for Worst band: "The 1975" "One direction" "The wanted" well i think it's about time the wanted receives an award don't u think

— sheryl too turnt (@stylescxnt) January 16, 2014
"the wanted and one direction are nominated for the worst band" seems like the wanted will finally receive their first award

— to the mars and back (@Zap1Demi) January 16, 2014
- Advertisement -