Rihanna has always been one to give back to her fans and according to sources, the Bajan beauty is planning on giving back to her army of followers after she was forced to cancel gigs recently due to laryngitis.
The singer kicked off her Diamonds world tour last week and has already been forced to cancel two dates, much to her disappointment.
According to Hollywoodlife, RiRi is definitely planning on making it up to her fans.
"She feels awful she had to cancel two fu**ing shows but it wasn't nothing she could do about that," a source close to the 25-year-old singer says.
"She hopes her fans give her another chance and you know she's going to give the crowd in Boston and Baltimore a little extra!"
The 'S & M' singer contracted the illness and caught a fever last week, resulting in her having to cancel the two tour dates, one in Boston on March 10th and the other in Baltimore on March 12th.
The source also tells the website that Rihanna has been "taking it easy over the past few days, getting much needed rest so she can continue her tour," which she did last night as she performed to a packed out crowd in Philadelphia.
They added, "She rested up the last few days and was in the bed half the time but she rested up and feeling as good as can be expected."
Before last night's show, the source continued: "She's looking forward to is killing it tonight," adding: "It's all about her show and her fans right now. She wants to be out there, giving her fans life."
We're sure you did just that, RiRi!
And it seems like illness isn't the only thing on the superstar's mind right now, as reports also suggested that Rihanna had been receiving abuse online.
According to Heat magazine, the 24-year-old singer has been receiving a torrent of abuse via Twitter over the last few weeks, leaving her wracked with nerves and her management fearing for her life.
"Rihanna is scared. Her management has taken these threats very seriously and has ramped up her security team. The level of vitriol aimed at her since her reunion with Chris Brown is unbelievable," a source told the magazine.
Rihanna kicks off Diamonds world tour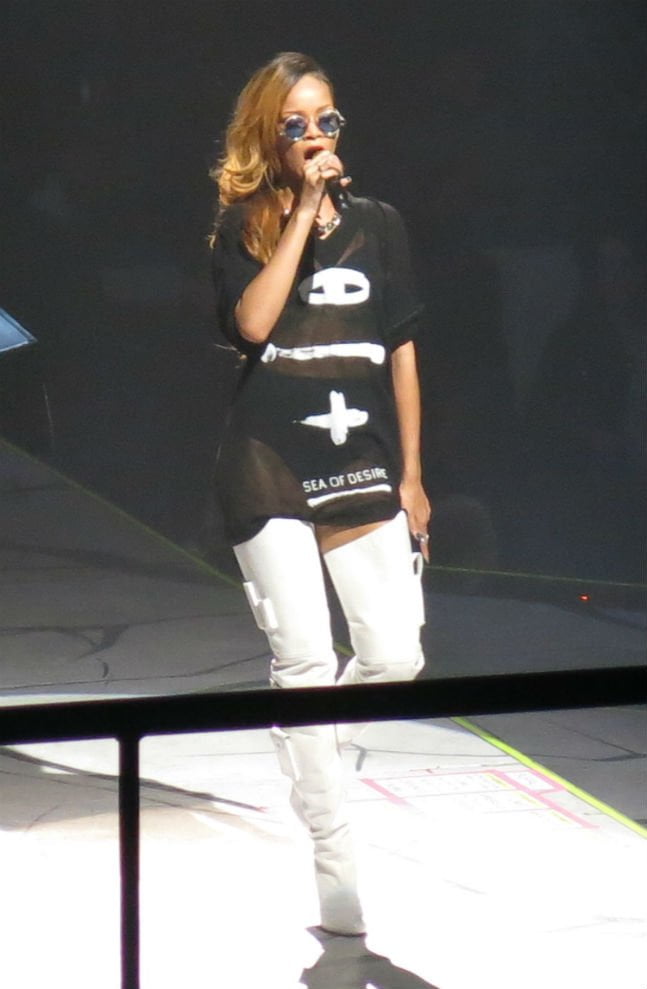 Rihanna loves a bit of mesh (Splash)
- Advertisement -