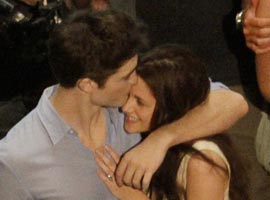 Photo: Splash News
During a recent interview to promote her new movie Water for Elephants, Reese Witherspoon may have confirmed her co-star Robert Pattinson's relationship with Kristen Stewart.
Although it is blindingly obvious that Rob and Kristen are together, they have never confirmed their romance.
But Reese revealed that her friends are jealous that she gets to make out with lots of hot co-stars including Rob, of whom she said: "I'm not gonna lie. He's a very, very handsome man.
"Someone's gotta do it. It's like America's Test Kitchen, but for making out with hot co-stars."
She added: "I do it for the girls. I love my job. They're all really good guys. And I know all their girlfriends."
Hmm, all their girlfriends eh? She continued: "He's sweet and loving and has the nicest family. Kristen is really sweet, too."
Ah, so she's met Kristen, like she's met all of her other co-star's GIRLFRIENDS. Have Robsten been outed?!