One Direction's latest single Best Song Ever has been blasted for sounding similar to The Who's hit song Baba O'Riley, with music lovers claiming it is a "repackaged" version.
The boyband debuted the catchy pop song earlier this month, and it shot straight to number 2 in the UK charts and is also enjoying success over the pond in the US, also debuting at number 2 in the Billboard Hot 100 charts.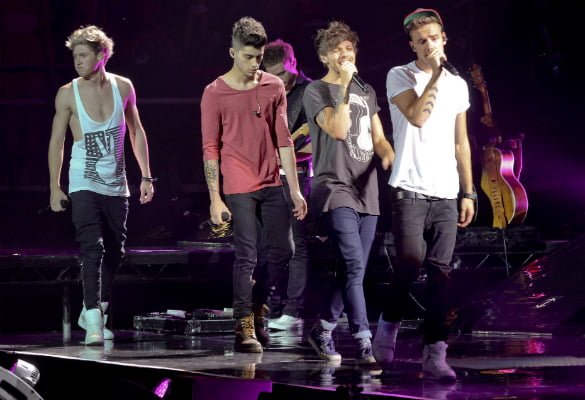 One Direction performing during their Take Me Home tour in San Jose (R Chiang / Splash News)
However, it seems that not everyone is a fan of the band's new song with music site clickmusic pointing out in a review that Trading  Standards should be contacted on the matter.
The review read: "Someone should call Trading Standards over the song title as 1D sterilise The Who's Baba O'Riley."
While another reveiwer added on the site PopCrush: "The first 20 seconds and the intro of One Direction's new single Best Song Ever…sounds like The Who's classic Baba O'Riley."
Meanwhile, similar comments were echoed on YouTube, with fans also pointing out the similarities.
One Direction Look Unrecognisable As They Become Old Men In New Video For 'Best Song Ever'