It's every girl's dream to see the One Direction lads in nothing but their underwear and the boys have made many a Directioners dream come true, as they were pictured filming a show for MTV recently in their under- garments. Very nice!
And the guys looked pretty excited about it too, as they pranced around shirtless, showing off some pretty amazing abs. It literally looked like the guys were having just one big slumber party in the 'behind the scenes' vid (see below) and we are definitely fans of their lack of clothing. Aren't you?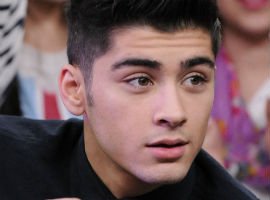 Zayn shows off his hot bod (Photo: YouTube)
However, is it just us or do the band seem to all be wearing matching pants? Interesting…
Meanwhile, the 1D guys have made a fair few rather exciting announcements recently and it seems like all you Directioners out there just can't wait to hear their upcoming album 'Take Me Home', which the guys have now described as 'heavier' than their previous album. Ooo, will the 1D boys be releasing their inner rock gods?
However, for all you fans who love the guys just as they are, the band have insisted that their next offering will not be 'too different' from their first album 'Up All Night', but it will be 'really fun' and 'very heavy on guitars and drums.'
Ooo, get those air guitars out!
- Advertisement -