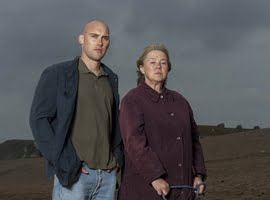 Photo: ITV Pictures
ITV's eight part TV drama Broadchurch, starring David Tennant and Olivia Coleman certainly gripped the nation, in one of the most eagerly watched and intense 'who done it?' murder mysterys for years.
Centering on the murder of 11 year-old Danny Latimer in a tight knit coastal community and with eerie hints and a long list of guilty looking culprits, fans were kept guessing right up until the explosive final episode last week, when the murderer was finally revealed to be Joe Miller.
EntertainmentWise caught up with star Joe Sims, who played cross-bow wielding plumber Nige, one of the bookies favourites for the murderer, to talk about the huge success of the show, the second series and that controversial "dog murder".
Hi Joe, or should we say Nige, it's been a week since Broadchurch finished, how are you feeling now the whole nation knows who the murder of Danny Latimer was?
"Yeah it's amazing, for me it feels like a burden has been lifted off my shoulders. Now everyone knows it was Joe Millar the killer I don't have to worry about letting it slip out. I had some live interviews this week, with  Lorraine Kelly and on the news and I was just thinking don't give it away."
"But the response has been incredible, to be working with the glitterati of top british talent and to be part of something like that, that's captured the public's imagination, I'll cherish being a part of Broadchurch for the rest of my life."
Was there a lot of pressure to make sure you didn't spoil it or let the cat out the bag?
"There was a collective responsibility to make sure you didn't give anything away, not just for yourself but for the people you're working with but also the British public, if I let it out the bag at the final hurdle I'd feel like I'd cheated them."
But people must've asked you who the murderer was, did you get pestered a lot?
All the time, more so my own friends and family and because they were running books on it, they said to me, oh go on say because it'll pay off for both of us."
What was the reaction of people you didn't know?
"The public have been really really nice, apart from the time when people thought I'd killed the dog. I got pulled over by the police and this policewoman got out of her car and she said 'did you kill that dog' it took a while to click, that oh yeah you mean Broadchurch.
That was quite a controversial scene…
"We're a nation of dog lovers and the reaction was a bit scary. Some of the things that people were saying to me on Twitter about what they were going to do to me if I'd killed that dog, made me think, they thought it was a fly on the wall documentary, but I can confirm no dogs were harmed in the making of Broadchurch."
"I met Andy [Andrew Buchan who played Mark Latimer ] in a beer garden the other day and we were just catching up and this woman across the garden shouted 'oh look it's creepy f***ing Nige'
"People have come up and been really complimentary about the show and my character and stuff asking about a second series."
We know the cast didn't find out who the murderer was until you shot the final episode, was there a moment before that you worried you were the killer?
"Yeah definitely, we got the script in installments so I was really excited when the courier arrived with my script and I just couldn't wait to read it because we were completely kept in the dark.
"It wasn't until we got episodes seven and eight together that we knew who did it, but up until that point, with the dog murder and Nige's alibi it certainly seemed the signs were pointing towards me."
Joe Miller was revealed as the killer in episode eight and it was revealed he'd been having an inappropriate relationship with Danny, what was your view of the ending?
"It was quite an unexpected, but strangely beautiful ending. It's a testament to the actors, writers and director involved for approaching it with that kind of sensitivity because it could have been just a caricature of a pedophile and I know that's something Chris [Chibnall the creator] didn't want to do."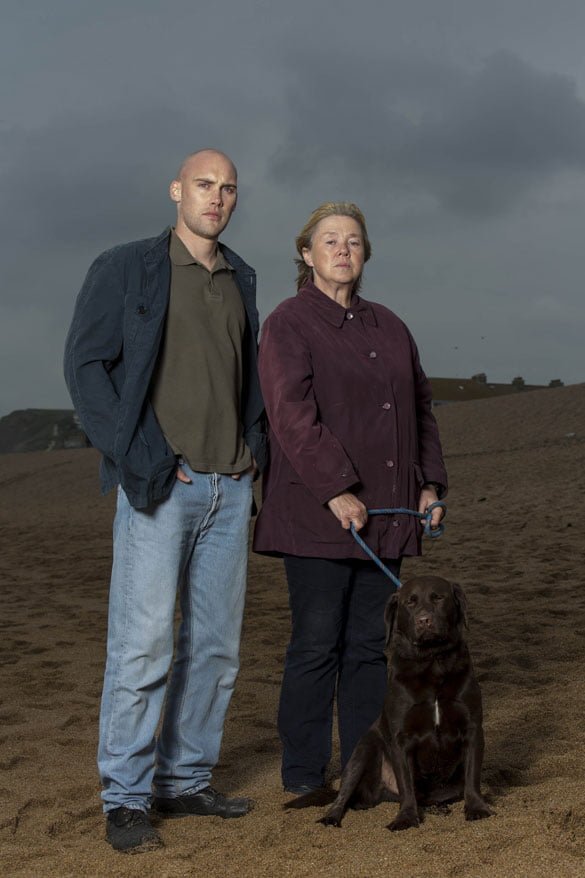 Joe Sims with Pauline Quirke and her dog, who 'Nige' almost killed (ITV/Broadchurch)
The first series only ended last week, but we found out right at the end of the credits that it will be back on our screens, what juicy details can you tell us about it?
"I genuinely found out when I saw at the end of the last episode, like everyone else I watched it last week. I didn't want to watch any previews, so saw the episode unfold with everyone else and it was a beautiful thing. It felt like the whole nation was watching it together and that's when I found out with everyone else, it would be coming back."
"I'm really excited about the second series because I'm a fan like anyone else, after what Chris has done with the first series what ever direction he plans to take it in is going to be really interesting and original."
What would you like to see when Broadchurch returns?
"I don't know, what was really interesting about the ending of the first series was not everything was tied up in a bow. You really got to see the numbness of Olivia finding out something so abhorrent about someone she loved and the repercussions it had on the family, maybe they'll look into that even further.
"Because we've done irreparable damage to each other, like Andy and Hannah, their characters presented David Tennant with a list of friends who could've killed their son and when you go back and look at it like that the day after the perpetrator has been caught, there's a lot of soul searching to be done and a lot of emotions to be explored."
But what we really want to know is fan favourite Nige going to be coming back?
Like Nigel finds out at the end that his mum is actually his adopted mum and his father is a child molester and killed his biological sister and there's another sister who's still alive and I could imagine they might want to explore that if I was in it.
"I mean what a horrible thing to have to find out, will we see nige trying to seek out his biological family, i really don't know. There's a lot that my character has gone through to explore and if he [Chris Chibnall] wants me back I'll bite his hand off."
Before the second series, Broadchurch is heading across the pond, do you think it'll have the same kind of following as in the UK?
"I don't know if it can have the same kind of impact in the US, as the killer is out there now. But for me I think sometimes it's almost better the second or third time, looking for the signs.
"I hope that's how it'll be taken in the US I think the American public will really like it. we're looking forward to going out there and promoting it I think sometime in July and August.
"It'll be interesting to see how it goes down in the States because obviously the US has an amazing reputation for making quality drama and I think Broadchurch justifiably sits in that pantheon of greats, maybe in twenty years time people will still be looking back on it as a stand alone series because of the way it captured the imagination of the public."
And will we be seeing you on screen again soon?

"Yes, I've had a few meetings since Broadchurch has ended so we'll see what happens.I'm just excited to roll up my sleeves and get involved. As an actor you want to create a body of work that when you're on you're death bed, you can be proud of. All I want to do is improve and what luck to work with those kind of actors and writers of Broadchurch who have forced me to raise my game so much.
Will you be sticking to dark and intense dramas or are we going to see a new side to you?
"I actually voice a train on a children's program called Chuggington the engine where I play a little train. It's so lovely, definitely nothing like Broadchurch, which was relentlessly dark.  It's about a little train who talks about sharing and caring and loving each other.
"It's just a lovely little train, who encourages other little trains to be the best they can be – no crossbows in sight!"
We can't wait to see Joe on our screens again as Nige or anyone else!
Broadchurch: The "whodunnit" that gripped the nation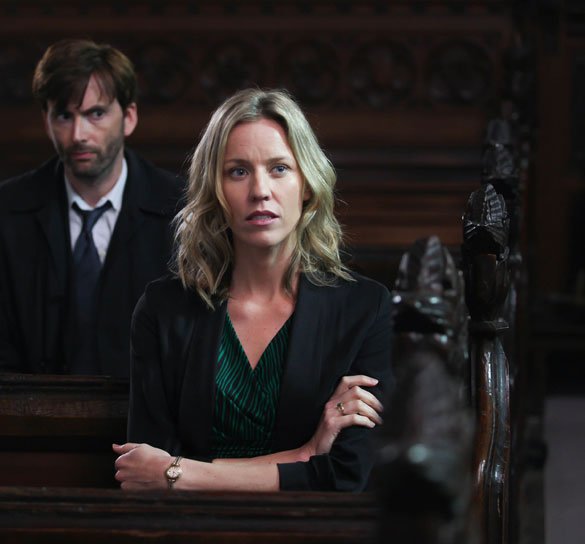 Could Becca Fisher (Simone McAullay) be the one who murdered Danny? (ITV Pictures)
- Advertisement -