Robert Pattinson and Kristen Stewart appear like they've been inseperable ever since the hunk got back from filming latest movie The Rover in Australia and Rob's co-star has now revealed all about the Twilight actor, saying that he didn't settle in to Aussie life easily.
Aside from missing his other half K-Stew, Guy says that Rob found the climate rather difficult to live with as well.
He told HollywoodLife: "Well, he struggled with the flies and the heat," adding: "I didn't man him up, but the others manned him up."
He said he eventually "had a nice time," his acting pal adds.
Director David Michod previously spoke about Robert's difficulties adjusting to Australia.
He said: "He's very smart. It's been one of the beaut experiences [for him] … to roam around and breathe fresh air, but the flies are driving him crazy."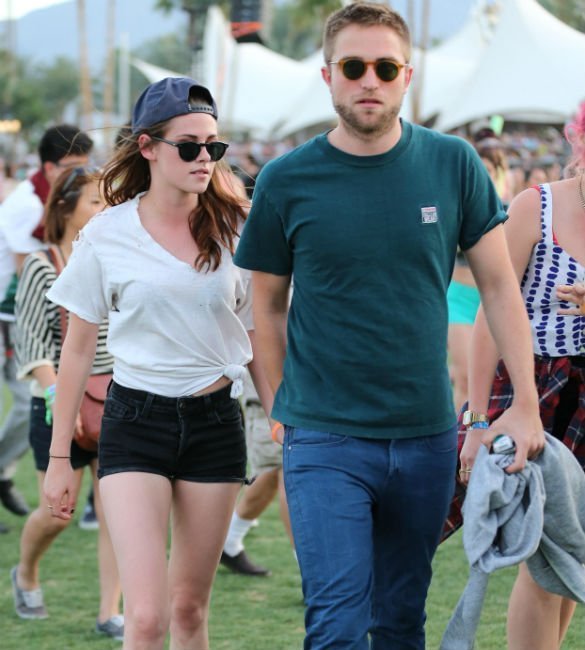 Rob & Kristen look loved-up at Coachella (Photo: WENN)
Despite the temperature difficulties, Robert is said to have used his time in Australia to contemplate the future of his relationship with Kristen Stewart following her fling with married director Rupert Sanders last year.
A source said: "Kristen is confident that her relationship with Rob is stronger than ever and has no problem whatsoever with Rob wanting to take things slow."
"They have been together pretty much non-stop since he's been back. The first person he wanted to see and spend time with is Kristen, and of course (their dogs) Bear and Bernie."
The Twilight couple are keen to showcase their love on the red carpet again and sources say fans may be able to see their fave couple together in public officially at the MET costume gala in New York next month.
"Kristen loves fashion and loves Rob," a source told the website.
"She would love for Rob to attend the MET gala with her in New York in May. She knows Rob isn't crazy about these types of events and having to dress up, but she has asked him."
But will he go? According to the close friend Rob will try but due to his hectic schedule of movie shoots he doesn't know if he can spare the time.
"No word yet on whether or not he can go or if he has a scheduling conflict, but he knows Kristen would be over the moon if he joined her," the insider went on.
"They both love hanging out in NYC together, so it could turn into a romantic, fun getaway for them."
Rob & Kristen have a joke during recent TV interview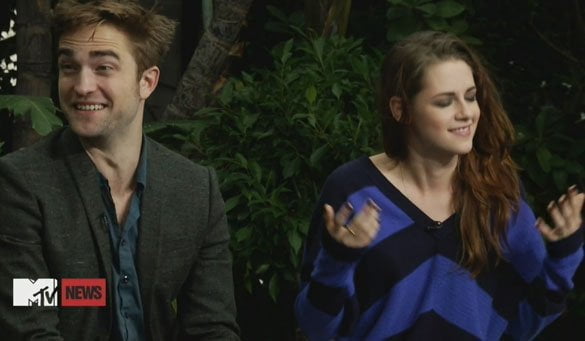 Rob and Kristen look happy and relaxed with each other as they give their first TV interview since the scandal (WENN/MTV)