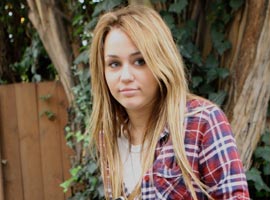 Photo: Splash News
Now that Gossip Girl's Blake Lively has denied rumours that she's going to star in the planned Sex And The City prequel,  we've been left wondering who would take the role of Carrie.
But it appears we don't need to wonder any more because former Disney starlet, Miley Cyrus has admitted that she "would love" to play Sarah Jessica Parker's role in The Carrie Diaries.
Talking to Access Hollywood, Miley said: "I would love it. I'm not attached, so I don't want to say that, but that would be very cool."
The star, who was in LA on Tuesday to support friend Justin Bieber at his Never Say Never premiere, also revealed that she enjoyed going on location with Kelly osbourne for her latest film, So Undercover.
"That was really fun getting to work with her. It's cool if you go to a location, you gotta actually have someone that you're… friends with more than just going away… being by yourself, you gotta have a friend with you."
What do you think? Would Miley make a good Carrie?
- Advertisement -