Miley Cyrus was forced to dodge questions about her rumoured romance with Rolling Stone magazine photographer Theo Wenner last night as she arrived at the 2013 FGI Night of Stars gala at Cipriani Wall Street in New York.
The 20 year-old swapped her usual trashy style for an elegant emerald metallic dress by designer Marc Jacobs, who she presented the Superstar Award to later in the night. While it might have been Marc's night, recent speculation about just who the newly single Miley, who split from fiance Liam Hemsworth in September, might be dating meant the Wrecking Ball babe couldn't escape questions over her private life.
Keeping her head down as she arrived at the event, the star ignored the waiting photographers who asked her about Theo. Rumours of a romance began when Miley was seen texting someone called 'Theo' at the Saturday Night Live afterparty, following her guest hosting spot on the show.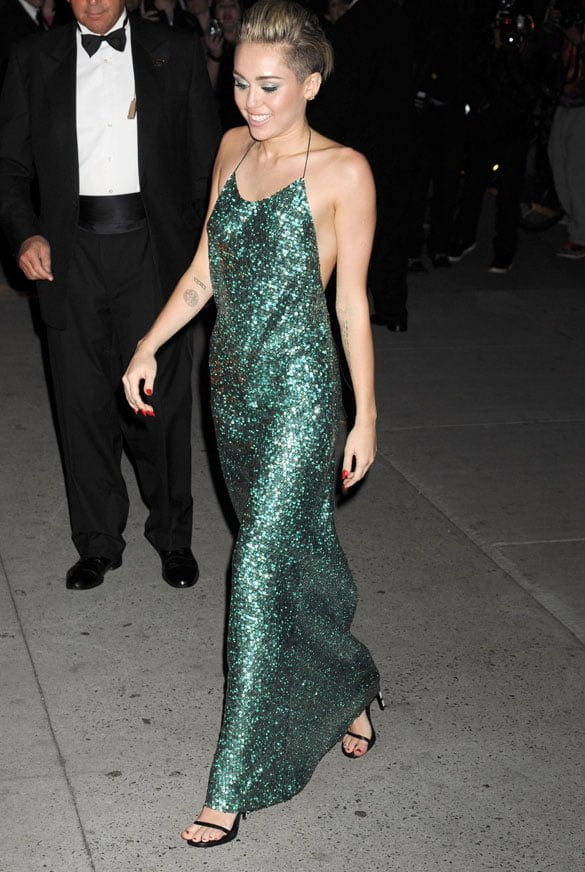 Miley goes for glam at 2013 FGI Night of Stars gala at Cipriani Wall Street in New York. (AKM-GSI)
The 24-year-old photographer, who is the son of Rolling Stone magazine owner Jann Wenner, was soon identified as a likely candidate for Miley's affections as he'd recently shot her topless cover for the magazine.
Insiders have since claimed the Wrecking Ball babe began dating Wenner even before her split from Hunger Games hunk Liam Hemsworth.
Despite Miley recently claiming she was "obsessed" with being single, during an interview with Ellen DeGeneres on her talkshow, reports have claimed she's very much into Theo.
"She's definitely dating him," an insider reportedly told RadarOnline.
"Miley talks about how hot Theo is and how nice he's been to her. She's definitely completely in lust with him."
"She said she's never met anyone as sweet as Theo," they added.
If she is she wasn't going to give anything away last night as she let her seriously sexy red carpet appearance do the talking instead.
Miley isn't usually such a fan of clothes
Miley Cyrus arrives at Planet Hollywood for meet and greet fan event in New Yorks Time Square (SplashNews)
- Advertisement -