Kate Middleton dazzled us all when she attended the Queen's Diamond Jubilee service at St. Pauls Cathedral in a stunningly elegant blush pink lace Alexander McQueen dress.
The effortlessly chic look has undeniably been one of the Duchess' most stylish appearances to date, and the public certainly seem to agree as George at Asda reported that just hours after Kate stepped out in the McQueen dress, their knock-off nude lace number had a 35 per cent increase in sales, and now it has completely sold out!
Looks like the Kate effect is in no danger of becoming extinct…
The ladies of Britain couldn't wait to copy K-Middy's style in their droves as the £25 frock flew off the shelves in a bid to emulate the understated elegance of the Duchess of Cambridge. And they've sure found themselves a good bargain as the imitation comes in at well over £1000 less expensive than similar versions from the original Sarah Burton range.
The George at Asda version of the Burton dress certainly looks a little different to the one Kate donned over the Jubilee weekend, featuring less lace detail and losing the sleeves and dusty pink colour that made the look so on trend yet subtly classy.
The stores George line has also seen a 46 per cent rise in sales of its limited edition 'Fit For A Queen' vintage inspired dress collection – inspired by the young Queen's style and the fit and flare trend of the 1950s.
A key feature of this collections success is the longer headlines that are currently being sold like hot cakes to shoppers wanting to imitate the Duchess' iconic style. Good to hear we're bringing classy back, ladies!
Kate looks stunning in lace!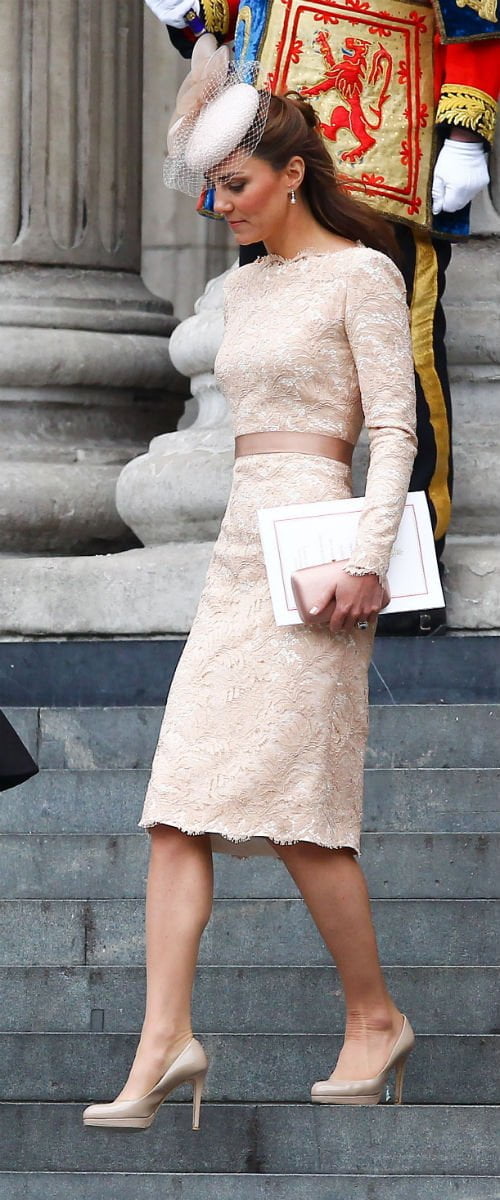 - Advertisement -