Last night Rihanna and Chris Brown looked like a young couple in love as the 'Yeah X3' star congratulated his former girlfriend on picking up an MTV VMA with a kiss.
While the tender moment has fuelled speculation the couple are set to rekindle their romance, it seems someone who isn't feeling the love is Brown's current squeeze Karrueche Tran who was left at home for the evening, while her boyfriend cosied up to his ex.
The Vietnamese model, who has been with Chris for over a year, posted a picture on her Twitter account saying, "Treat Your Girl Right."
Earlier she tweeted the cryptic message: "You can't expect the best when you're not giving your best."
Well it didn't look like Chris was treating Karrueche right last night. The couple have seem strained during their most recent public appearances, with Tran standing by during a trip to the South of France while Chris danced topless with a group of fans.
Speculation that Rihanna and Chris would reunite were rife following the 'We Found Love' star's emotional interview with Oprah Winfrey. The 24-year-old admitted she still loved her ex-boyfriend, who she split with in 2009, and said she always would.
She confessed to Oprah: "I still love him. I think he was the love of my life. He was the first love and I see that he loved me the same way. We were very young and very spontaneous. We ran free. We ran wild. We were falling in love going in at a really rapid pace and we forgot about ourselves as individuals."
In the interview Rihanna admitted that when she sees him she gets 'butterflies', we wonder if she got them last night when they publicly kissed?
Chris Brown Hits The Club In The South of France With 'Moody' Tran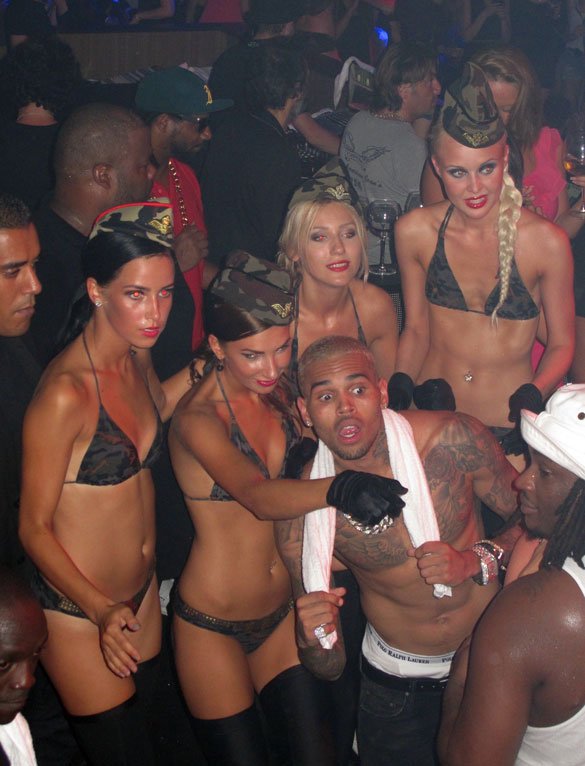 Chris Brown parties in Gotha nightclub
- Advertisement -