While Kim Kardashian and Kanye West look happy in love as they take romantic dates in helicopters and pop out for frozen yoghurt, behind the scenes all is not well as Kanye West has been accused of being far too controlling banning Kim from speaking to many of her old friends.
The 'Power' rapper, who could be seen on the family's reality show telling Kim to switch up her wardrobe because it was 'too ghetto', has now told the 31-year-old that she needs a new set of friends.
A source close to the couple has told Reveal magazine that Kim recently changed numbers without passing on her contact details to her friends.
"In June, at Kanye's urging, Kim changed both her email and mobile number leaving more than half of her old friends in the lurch," the insider told the mag.
"Kanye convinced Kim that she had too many leeches hanging around her and that she needed to 'upgrade' her social network."
The 35-year-old has also been accused of making Kim cull her long-term pal and make-up artist Joyce Bonelli.
The pair were once inseparable, with Joyce even witnessing Kim record her atrocious debut single with The Dream, but now she's been ditched only working on a number of projects that Kanye wants, according to the mag.
"Kim's remaining friends are wondering if they're next on the chopping block," the source claimed. Kim is head over heels for Kanye that's for sure, but according to the magazine her family aren't happy about the recent changes.
Only this weekend Kim was seen with her best pal Jonathan Cheban at the Made In America festival alongside Kanye, who made a guest appearance for Jay-Z's set.
PHOTOS: Were Kim and Kanye house-hunting in New York?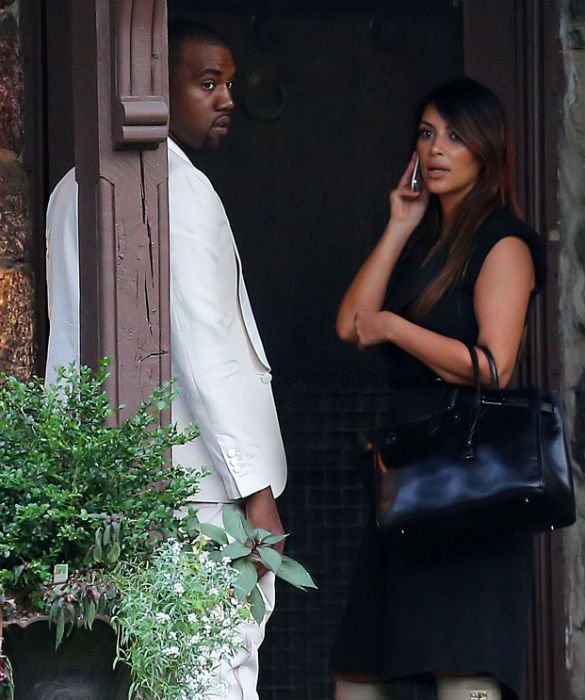 Kim Kardashian and Kanye West were spotted checking out a house for sale in Westerchester, NY today. September 3 (Splash News)
- Advertisement -