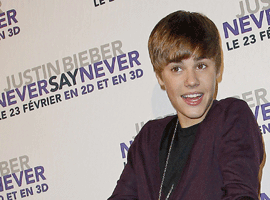 Photo: WENN
Despite having millions in the bank Justin Bieber has claimed that he's considering attending college in the future.
The 'Somebody To Love' singer has admitted that while it's not on his immediate agenda, it's something that he would take into consideration when thinking about his future.
In an interview with Access Hollywood, he said: "I'm not ruling that out. I'm just saying at this point, I'm 17, I plan on doing this a long time."
The star, who recently revealed that he plans to become a young father, also added: "At this time, I'm not really planning on going to a college. I have many other things that I'm working on and doing."
Bieber claims that while he was still attending school, he didn't get on well with the teaching staff and was disruptive in their lessons, according to Sugarscape.
"There were a lot of teachers that were mean to me… teachers were mean to me, if you can believe it," Bieber said. "I was a bad kid… I just talked a lot in class."
- Advertisement -