Justin Bieber has proved haters wrong as he took the stage in Portugal last night on the next stage of his 'Believe' world tour. The As Long As You Love Me singer has been under attack by the media recently for his shocking behaviour in London, but showed his fans that all seems to be behind him now.
It has been a strange few weeks for Justin Bieber. Since arriving in London the 19-year-old star has been papped walking in the freezing cold with no shirt on, wearing a gas mask to go shopping, arriving nearly two hours late for a gig and almost getting into a fight with a photographer shouting that he would "beat the f**k out of him".
Luckily it seems that the Canadian super-star has put all of this negativity behind him as he took to the stage last night in Portugal.
The singer tweeted after the performance saying "PORTUGAL was RIGHT TONIGHT!! #SOLDOUT #BELIEVEtour".
He then showed his support to his fans adding "thanks to all the fans…the beliebers tonight. incredible show! before posting a photo of himself on stage to Instagram.
Bieb's manager Scooter Braun has hotly been denying recent rumours that the pressure of fame is causing the singer to have a breakdown, and it seems the star has proved him right!
A lot of celebrities have been adding their support to team Bieber over the last few days, with names like Will Smith, Harry Styles and Will. i. am reaching out the the Baby star.
It was reported that when Justin was leaving the UK he had vowed never to come back again which obviously upset a lot of his UK based fans.
However Biebs took to twitter to hit back at these claims announcing that his UK Beliebers are "incredible" and that he "will be back. and i will see u again. and I am grateful for all of u. U are what made some of the other stuff 😉 worth it".
All grown up? Justin Bieber hits the stage on 'Believe' tour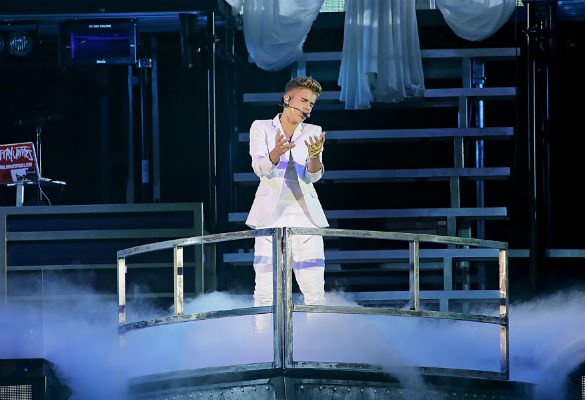 Justin Bieber takes to the stage in Manchester, Feb 22 (Photos: WENN)
- Advertisement -