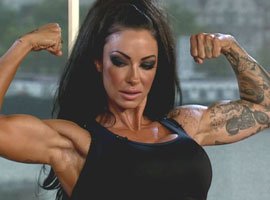 Photo: WENN
Jodie Marsh has appeared on This Morning to talk about her dramatic body transformation from glamour girl to trophy-winning bodybuilder.
The 32-year-old, who came fifth in last weekend's Natural Physique Association (NPA) Mike Williams Classic and Pro-Am Bodybuilding Championships in Sheffield, has admitted that the pictures that were revealed in the press made her look like she was "some 16 stone beast of a man", but she says she's tinier than ever.
In her interview, Marsh reveals that she's 5ft 2″, weighs 8 stone and is a UK size 6.
Talking to presenters Phillip Schofield and Holly Willoughby, Marsh said: "In the pictures you can't tell how big someone is and in the pictures I look like some 16 stone beast of a man."
But she added: "I'm just really, really toned. I'm just really fit."
Jodie's transformation admits that while it's been reported that her change was over just an eight-week period, she actually has been training as a bodybuilder for the last few years. But, she was given an opportunity to drop 14lbs of fat and get trim for a competition, which meant that she had to train every body part.
She said: "The whole thing was for a television show but actually forgetting the show, that comes out on DMAX in January, but apart from that I wanted to do this anyway. I just offered them the chance to follow it because I thought it'd be fascinating."
Watch Jodie's interview on This Morning here:
From Glamour Girl To BodyBuilder…