Jay-Z has apparently used one of his Great Gatsby soundtrack songs to blast Taylor Swift, bringing up THAT MTV acceptance speech that was interrupted by Jay's pal Kanye West back in 2009.
Although Taylor seems to have moved on from the shock of the whole thing, it looks like the rappers both want to bring it up yet again and Jay-Z has name checked the Love Story singer in the lyrics, accusing her of getting even more famous after Kanye interrupted her speech.
According to the New York Daily News, Jay-Z, the executive producer of said soundtrack, takes a stand in support of his best friend (West) on the song '100$ Bill.'
The lyrics are pointed, stating, "That cheese made us constipated couldn't tell us s—." He adds, "Took that, Taylor Swift to a hundred f—ing million, b—."
It seems that he's trying to point out that money can't make celebrities behave well and he may also be implying that the incident made Swift even more of a superstar.
But, despite the Taylor Swift diss, The Great Gatsby director Baz Luhrmann clearly has no second thoughts about having Jay-Z do the movies' soundtrack and has said that the No Church In The Wild star 'totally nailed' it.
"Jay-Z and Swizz Beatz were two of the first people to see a rough cut of the film," Luhrmann told MTV News.
"Jay watched it, and he was fantastic. He and Swizz were talking. I'm like, 'What are they talking about?' And at the end, [Jay-Z] said, 'This story is not about how Jay Gatsby made his money; it's is he a good person or not."
Explaining the meaning, Luhrmann continued: "He totally nailed that the book was aspirational. That the book was really about, if you've got a cause, you can move towards a green light. That you don't reach it isn't the point; that you aspire is."
Luhrmann goes on to explain how he encouraged Jay-Z to capture the 20s jazz vibe of the movie, saying: "I showed [Jay-Z] my little video of how we had to find a way of making the jazz, blend it between hip-hop and all kinds of music."
"And I was about halfway through it, and Jay [seemed really into it]. And I said, 'Maybe you'd be interested?' And he looked up like, 'What are you talking about interested? We've got to do this!'"
Taylor Swift wows crowds in tight leather shorts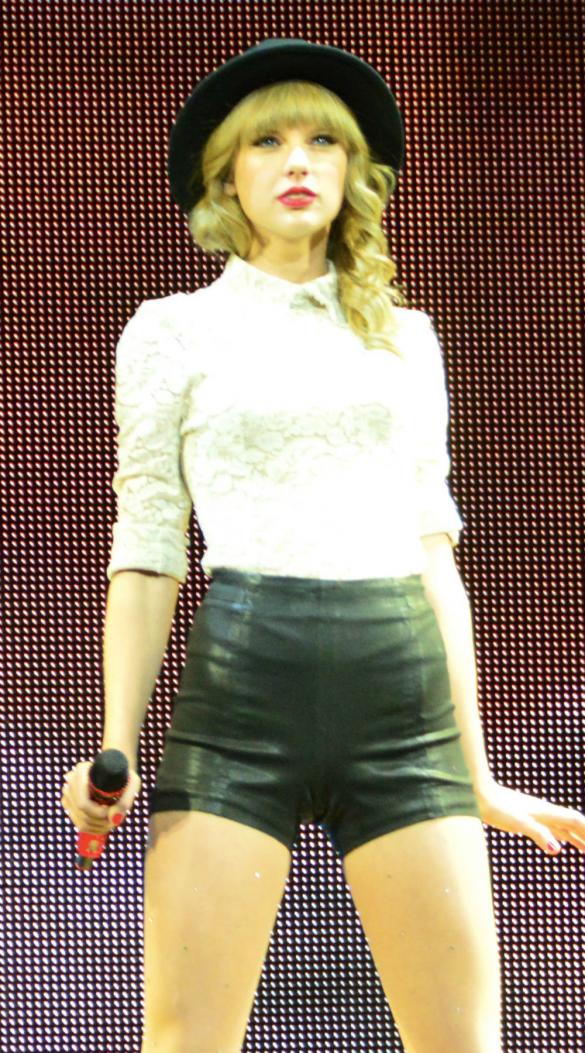 Taylor Swift rocks the stage in sexy leather shorts (Splash News)
- Advertisement -