Few TV debuts have caused more fuss or stoked more curiosity than Gary Carr's as Jack Ross on Downton Abbey as the first black character in the ITV period drama. Speaking ahead of his debut the actor has assured viewers he won't be a "token character" in the show. 
ITV announced back in May this year that they're casting Downton Abbey's first black character – jazz singer Jack, from Chicago – and since then the anticipation has been fierce.
Downton Abbey's 12?million fans will get their first glimpse of Gary tonight when he ends up at Downton following a chance meeting in a London club.
Producers are keeping his story lines under tight wraps but last night Gary admitted his character would be drawn to both Lady Mary, played by Michelle Dockery, and the flighty Lady Rose, played by Lily James.
He said: "All I can say is that he interacts with both Lady Mary and Lady Rose. Whether one of the relationships is romantic and one isn't, I can't say.
"Both of these two characters end up being quite prominent in his life. He has to ask a lot of questions about himself as he is drawn closer to certain characters."
"It's really nice to be able to talk about it," he says.
Gary explains how although his character's arrival raises a few eyebrows, viewers won't be confronted with hard-hitting racism and above anything, he will not be playing a token character.
"Jack has a maturity and a self confidence, and when he enters a room he knows all eyes are on him. He is not arrogant. He is very suave and cool. But when a foreign object or character enters an environment, there are bound to be a lot of questions. Jack finds himself faced with ignorance rather than prejudice."
He then adds: "Would I want to play a token character? No, of course not. A lot of people have made judgments about how Jack is going to be portrayed, but I think they've got it wrong."
Viewers are still reeling from the brutal rape of lady's maid Anna, played by Joanna Froggatt, on last week's episode, but the actor has only praise for the way the attack was depicted.
He said: "I think it was extremely well written and extremely well acted. What I love is that Downton is giving its audience an education about those particular times. It's interesting to see how a woman would deal with rape back then. It's not like today. She wouldn't have lawyers or any support mechanism."
Gary, who performed in a West End production of 'The King And I' when he was only seven, will perform all of his own numbers in the show.
He is also working on an album which he hopes to release next year.
Downton Abbey's new faces for season four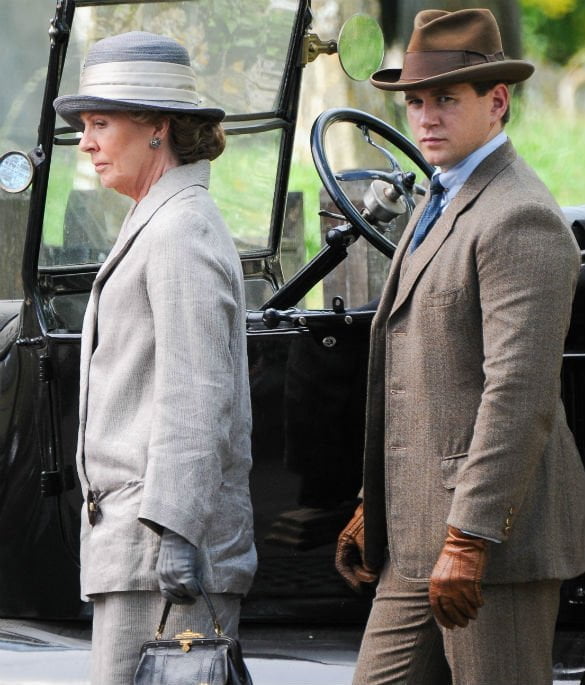 Season 4 filming of Downton Abbey continued in Bampton, Oxfordshire. On set, Jim Carter who plays Carson, Lesley Nicol (Mrs Pattmore), Penelope Wilton (Isobel Crawley), Allen Leech (Tom Branson), plus a possible new love interest for him after the death of his wife, Lady Sybil. It was also Matt Milnes (Alfred) last day with the Downton Abbey crew. (Wakeham / Splash News)