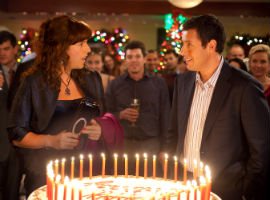 Photo: WENN
It's the only ceremony that actors dread and this year it was Adam Sandler's turn to be left red faced by the Razzie awards for the worst films, as his movie 'Jack and Jill' walked away with a record 10 awards.
The 'Water Boy' star won both the worst actor and actress awards for playing Jack and his twin sister Jill in the comedy flop which co-starred Katie Holmes.
The record 10 prizes is the first time in the 32-year history of the awards, full name 'The Golden Raspberry Awards' that a film has won every category something which probably won't be a comfort to Sandler or his career.
Unsurprisingly the 'Wedding Singer' actor didn't turn up to pick up any of his awards, despite winning the worst actor accolade jointly for 'Jack And Jill' and another film flop 'Just Go With It' which co-starred Jennifer Aniston.
He wasn't the only actor embarrassed by the movie, acting legend Al Pacino won worst supporting actor for his role in the movie….playing himself.
Jennifer Aniston And Adam Sandler On Set Of 'Just Go With It'