Whilst the arrival of Kim Kardashian's daughter North may have not been shown on Keeping Up With The Kardashians, talk of Kim's private parts were when the reality TV beauty admitted to her sister Khloe that she looked at her vagina after she gave birth.
Having previously revealed her interest in doing a naked shoot following the birth of her daughter, last night's episode of Keeping Up With The Kardashians saw Kimmy candidly remark: "When I came back from the hospital the first thing I did was go and look at my vagina in the mirror. It looks better looking than before.
"I just want to come out to the world, and be naked and be like, 'I look so hot. I am back'."
And it appears that all the apprehension Kim had about welcoming her daughter into the world disappeared as she spoke of how easy it was to give birth. Speaking of the experience of labour, she said: "Labour was honestly the easiest thing ever. I did not feel one thing. Like, it was not hard."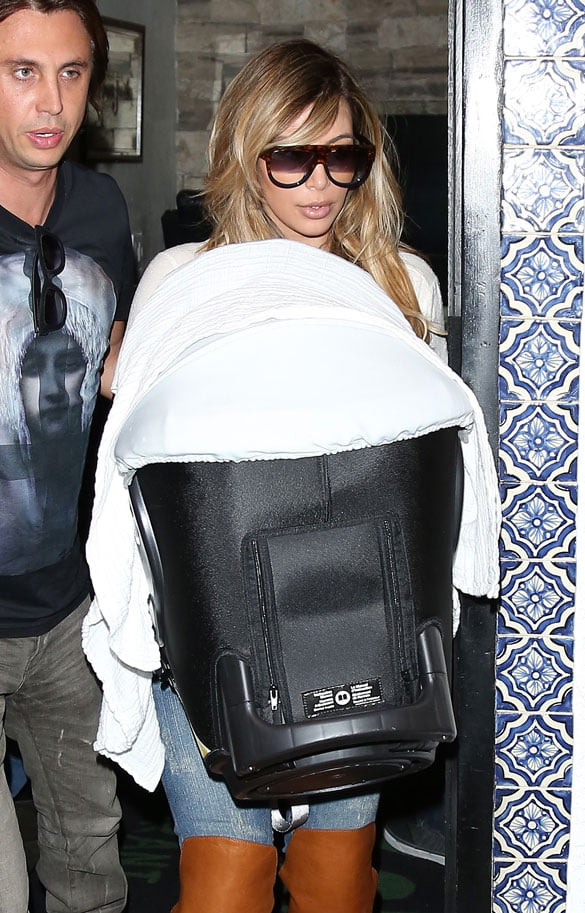 Kim spoke of North in the latest episode of KUWTK (Splash News)
Gushing about seeing North for the first time, new mum Kim went on to say: "And then just staring at her…Everything that they say that happens is so true, like you fall so in love and it's this deep connection."
As Kim settled into motherhood, the subject of Kim's boobs became the topic of conversation with Kimmy admitting to her mum Kris Jenner: "My boobs are ridic, they are the size of huge cantaloupes."
Khloe also commented on Kim's lady lumps asking her sister who is now engaged to US rapper Kanye West: "You have torpedoes, like I have never seen breasts that size in real life…It's like Anna Nicole Smith. Do you pump in front of Yeezy?"
Kim celebrates her birthday in Las Vegas!
Kris Jenner attends Kim Kardashians Las Vegas birthday bash, October 25 (Photo: Splash News)