It looks like Jamie Dornan's time on the Fifty Shades of Grey set could be coming to an end as the Northern Irish actor prepares to head to Belfast to begin shooting the second series of The Fall.
Jamie has been on the Fifty Shades set in Vancouver since the beginning of December, shooting his scenes as Christian Grey in the movie adaptation of EL James' smash hit movie.
The hunky star has been spotted shooting on the streets of the Canadian city with co-star Dakota Johnson, who plays Mr Grey's bedroom protégé Anastasia Steele, with the actors also hidden away in a studio to shoot the film's more raunchy scenes.
It looks like Jamie's time on the gruelling shoot could be coming to an end though as the actor's other big work commitment looms. The star is due to head back to Belfast this month to begin work with Gillian Anderson on the second run of the hugely successful crime series The Fall.
It was confirmed last October that Jamie's sudden appointment as Mr Grey (he was drafted in as a last minute replacement for Charlie Hunnam) wouldn't affect his shooting schedule for The Fall.
Insisting that Jamie's schedules won't clash the executive producer of the TV drama Gub Neal told RadioTimes.co.uk:
"We have been talking to Jamie for nine months about his role and the Fall schedule is not affected in any way. We begin filming at the end of January, beginning of February, and it is a 16 week shoot and nothing has changed."
It's thought shooting on the new series will commence around the end of this month, with the production issuing a casting call last week that included some clues as to the start date.
Local reports in Belfast reveal that The Fall producers are looking for a young woman aged between 18-21 to play the role of 16-year-old schoolgirl Daisy – a friend of babysitter Katie, who featured in the first series.
Daisy is described as a "glamorous and confident" character that "all the boys want to be with and all the girls want to be". The ad also states that they need to be available for approximately 5-10 days from 24 February-16 June 2014, seemingly confirming the filming dates.
While the production waits for Jamie to wrap in Vancouver, his co-star Gillian Anderson has also reportedly caused a delay in the start date thanks to her commitments on the set of Hannibal in the US.
Take a look at Jamie and Dornan getting soaked as they filmed work out scenes in Vancouver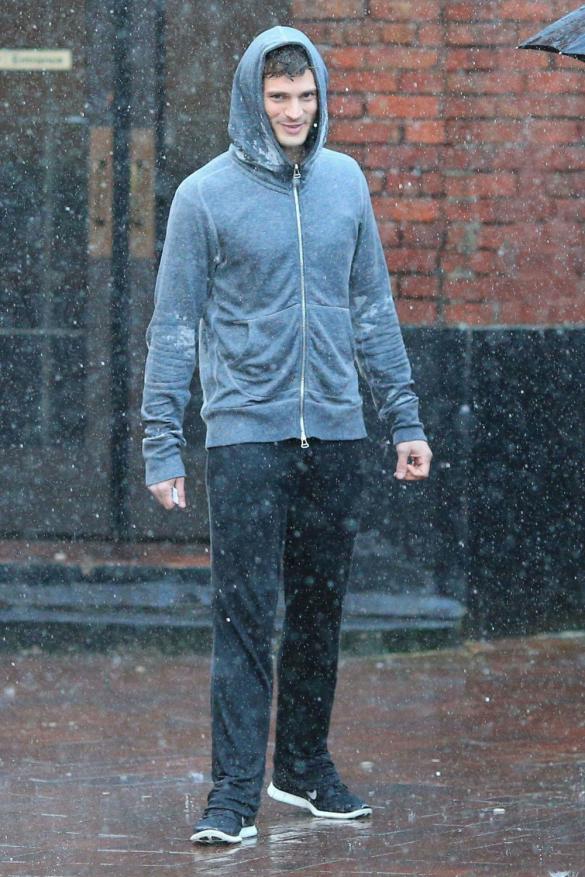 Jamie Dornan gets soaked on the Fifty Shades of Grey set in Vancouver (Fame Flynet UK)
- Advertisement -