Daniel Radcliffe is eager to share screen time with Dwayne 'The Rock' Johnson, revealing the goal is one of his greatest "secret ambitions".
The 24-year-old Harry Potter actor has seen his career transition into new territory since the fantasy film franchise based on J.K. Rowling's children's books concluded in 2011.
Taking on diverse roles in movies like The F Word and Kill Your Darlings, Daniel says he is now aiming to add a film with Dwayne to his resume.
"But, it is one of my secret ambitions now to do a movie with Dwayne Johnson. Wouldn't that be amazing?" he mused to Sharp Magazine.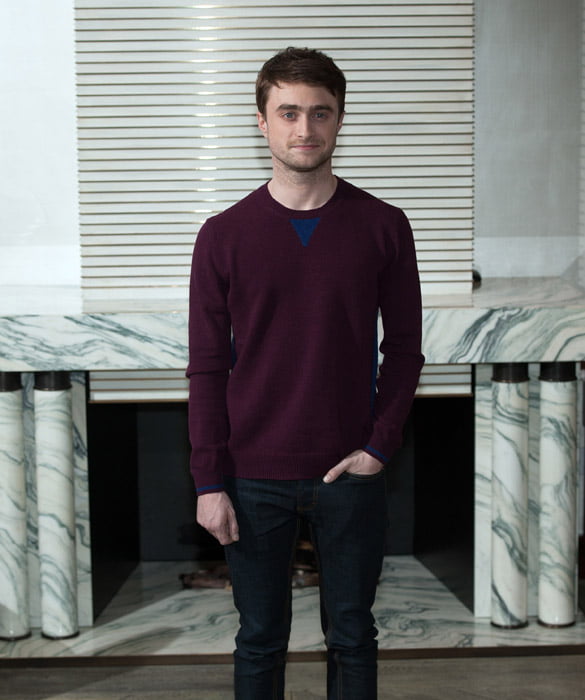 Daniel Radcliffe doesn't want to limit himself professionally (WENN)
Daniel stars with Dane DeHaan in Kill Your Darlings and during the film their characters engaged in a gay love scene.
The star isn't very much impacted about getting intimate on camera because he stripped down to the nude in front of a live audience in 2008. While starring in Broadway play Equus at the time, Daniel portrayed the lead character Alan Strang, a young man with a huge horse obsession.
"I suppose when you do Equus when you're 17 it does make you very kind of unshockable, when it comes to all this performing sex scenes – gay or straight," he detailed, adding:
"The first one I ever did was with a horse."
Daniel is also looking to expand his professional pursuits even further, choosing to take his hand to writing, but being a novelist doesn't really spark his fancy.
"I don't have the attention span to write a novel," he explained. "I want to write scripts. Ultimately, I want to direct."