Whilst Sean Lowe and Catherine Guidici may have found love in front of the TV cameras, it appears the couple are keen to keep their private life just that after Sean ruled out having their own reality TV show.
Thankful for The Bachelor which saw him propose to the love of his life, Catherine, Sean who also starred in the recent season of Dancing With The Stars told Maximo TV that they weren't quite ready to allow cameras into their home.
Sean commented: "We've been approached by a few different production companies to do something like that but right now, I don't think we're interested."
With Sean and Catherine might not be keen on the idea of sharing their day to day life with everyone, Sean did recently suggest that the pair's wedding may be televised.
He told E! News: "Yeah, I think once we set a date, it'll probably be aired on ABC."
And their wedding looks set to feature a dance choreographed by his Dancing With The Stars partner Peta Murgatroyd after she recently revealed that she would be taking part in Sean and Catherine's wedding by choreographing their first dance.
Speaking about her plan during her joint interview with the former Bachelor star on Good Morning America, the dancer said:
"It's going to be such a privilege to be able to do it. I'd love to do a waltz or a Viennese waltz with these guys."
Crediting Catherine on her dance moves, Peta continued: "They've actually done the Viennese waltz before, and Catherine is such a good dancer. If no one knows that, she's amazing; she's such a naturally talented dancer."
It appears the first dance Peta has planned will fit in well with the plans Sean and Catherine have for their wedding after the reality TV star told OK! Magazine US that he wants to have a big party.
Commenting on his future wedding to Catherine, Sean said: "She wants a traditional ceremony, so something classic and beautiful. And then we want the reception just to be a big party with all our family and friends.
"We want everyone to have a great time and have a night to remember. That's what we're shooting for. As far as the minor details, we haven't planned those yet."
Sean Lowe And Catherine Giudici's Romance In Pictures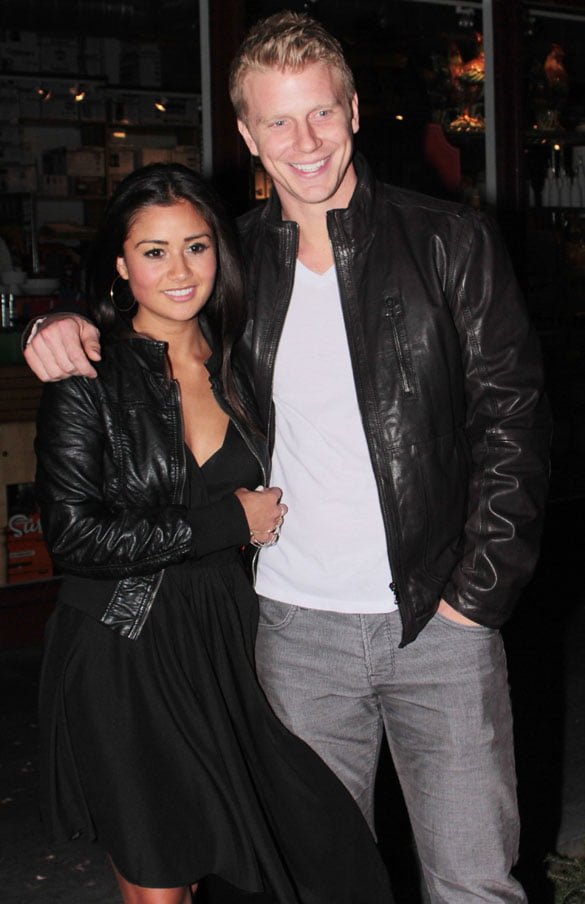 Sean puts a protective arm around Catherine on a night out. How sweet! (WENN)